FredCast さんはデザインコンペを開催して新しい 衣料品・アパレル を入手しました。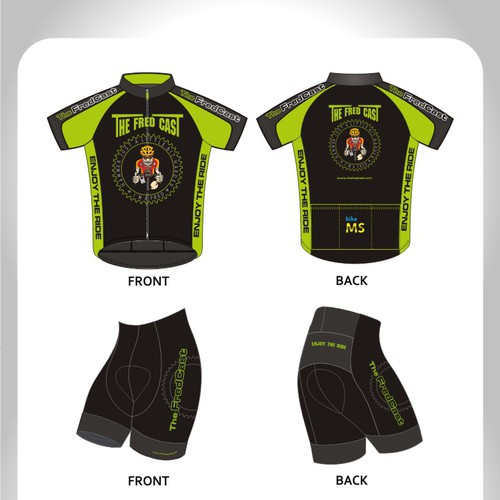 by Edwin Gecan
Help us Design Cycling Team Apparel
FredCastさんの 衣料品・アパレル コンペをチェックしましょう
I like good combinations of bold solid colors, as you can see from some of the included images. Lately I have found that combinations of black with other dark colors is popular. The last Team FredCast jersey included the logo very prominently on the front and back, but we do not want that this time. If you prefer to just put the logo on the shoulder/sleeve area or on one side of the chest, that is fine. If you minimize the logo, it should also be on one of the rear pockets. One idea we have had (although this is not mandatory) would be to perhaps create a Team Fred crest (see included geek/nerd crest designs, as well as the Motorists' Front design) as the main graphic on the jersey (we really like the Nerds Night Out logo for its simplicity). We've included a photo of a jersey that uses a crest as its main element, this one for the Republic of Anaerobia. One thing that might also be fun is to "hide" something inside one or more of the back pockets. A jersey from a ride whose logo includes a rabbit, includes carrots inside the back pocket (can't be seen unless you look inside the pocket). Another ride whose claim to fame is popsicles at a rest stop, once put the image of a popsicle inside the pocket. So if you wanted to hide something in the pocket, you could consider (as an example) a pocket protector, since Freds are the nerds of the bike world. We like creativity and a sense of humor, so go for it!
We are looking for Team FredCast cycling jerseys, shorts and socks. In the cycling world, a complete uniform like this is called "kit." Team FredCast kit will be worn by listeners who enjoy The FredCast Cycling Podcast, an audio podcast devoted to the latest cycling news, gear, gadgets, components and more. The show is called The FredCast because it is aimed at so-called "Freds," or high-end cyclists who tend to spend a good deal of time and money on their equipment and training. In a way, Freds are the nerds or geeks of cycling. While it is true that several internet dictionaries define a "Fred" as a person who spends a lot of money on his or her bike and clothing (yes, women can be Freds too), but still can't ride, I tend to disagree. The reason why the so-called "serious" roadies like to disparage us Freds, is because we usually drop the "serious" roadies on the hills or in the town-line sprints. Turns out that lots of those "serious" riders were really posers. More info on Freds that may be useful as you plan your designs: Bicycling: Are you a Fred? http://biskey7.wordpress.com/2011/04/02/bicycling-are-you-a-fred/ To Fred or Not to Fred http://thedailygrind.robdamanii.com/2011/03/25/to-fred-or-not-to-fred/ Bicycle Source's Definition of a Fred: 1) n. a person who spends a lot of money on his bike and clothing, but still can't ride. "What a fred -- too much Lycra and titanium and not enough skill." Synonym for poser. Occasionally called a "barney". 2) n. a person who has a mishmash of old gear, doesn't care at all about technology or fashion, didn't race or follow racing, etc. Often identified by chainring marks on white calf socks. Used by "serious" roadies to disparage utility cyclists and touring riders, especially after these totally unfashionable "freds" drop the "serious" roadies on hills because the "serious" guys were really posers. This term is from road touring and, according to popular myth, "Fred" was a well-known grumpy old touring rider, who really was named Fred.
There are three phrases which are related to the podcast, which can be incorporated into the kit, although these do not need to be featured prominently. These are: - I'm a Fred. - Hammer just a little bit harder. - Enjoy the ride. Take a look at the included images of previous jerseys and socks we created for Team FredCast and you'll see how we incorporated these slogans. Of course, if you have innovative ideas for incorporating these slogans into the design, please do so. As an example, the included image of the Interbike Nation jersey uses some of their key phrases (e.g. urban yard, outdoor demo) subtly in the background of the jersey. You must include the logo. You must include the web address (www.thefredcast.com) You must include the BikeMS logo on the front breast and on one back pocket.
Do not submit designs where the prominent chest/back colors are white. These will be rejected.
すべてのデザインカテゴリーで予算に沿って 柔軟に価格を設定 できます。 衣料品・アパレル は ¥27,399 〜
すぐに使用可能なデジタル用、印刷用ファイルと著作権。
全てはデザインブリーフから
簡単でインタラクティブなガイドに従って、希望のスタイルを伝えましょう。デザイナーは衣料品・アパレルに必要なものは何かを正確に把握することができます。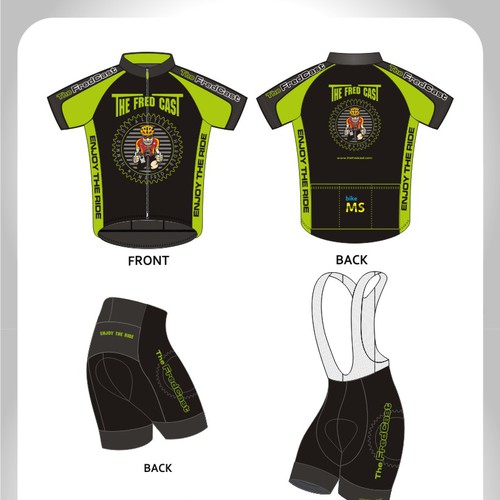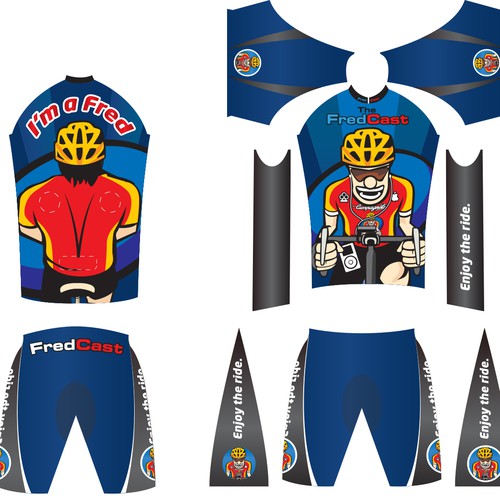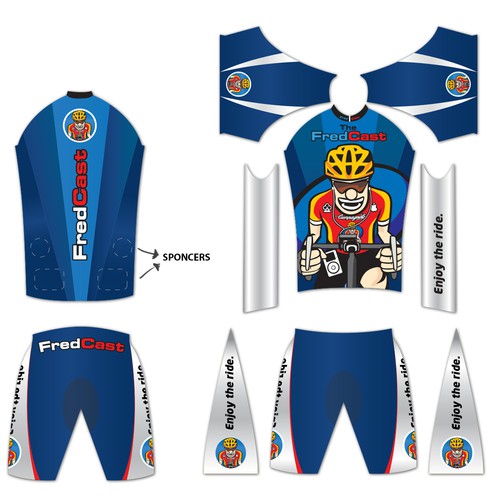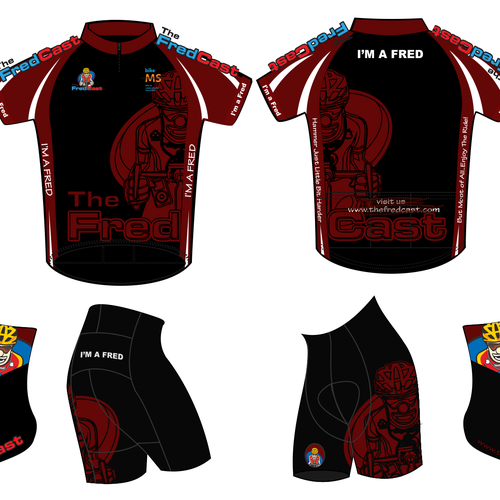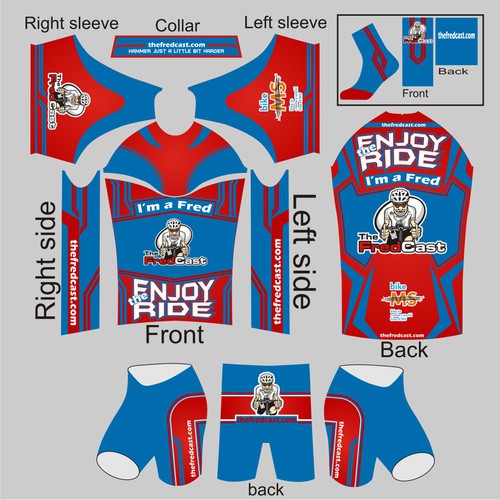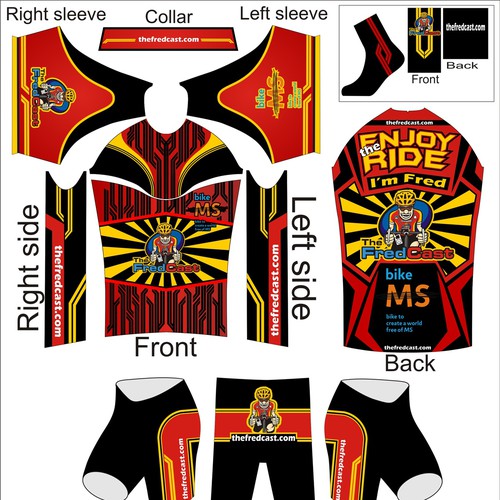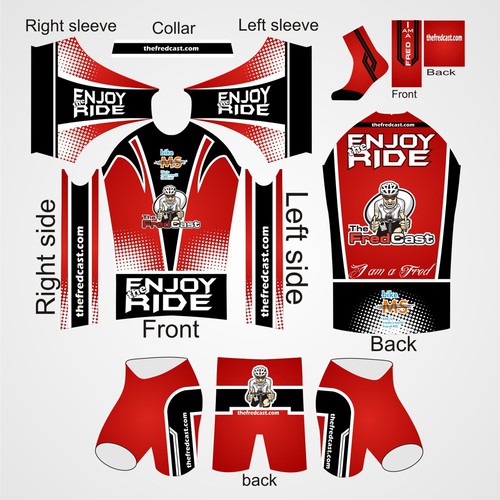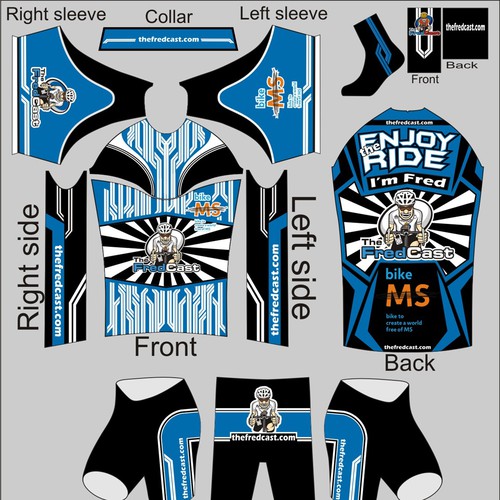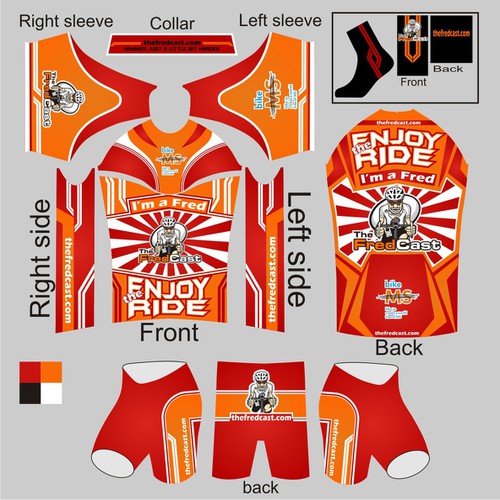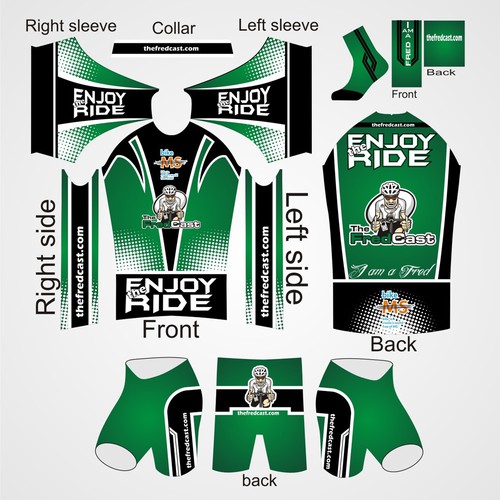 世界中の経験豊富なデザイナーから多くのコンセプトを入手できます。
才能あるプロの 衣料品・アパレル デザイナーと協力して、アイデアを実現させましょう。
お気に入りの 衣料品・アパレル を1つ選択しましょう(2つもしくは3つも可能)。デザインは全てあなたのものになります。
FredCast さんはデザイナーと協力してアイデアを磨き上げました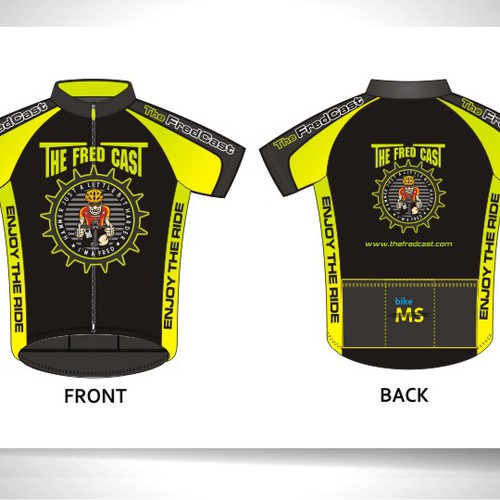 デザインを評価
デザインのエントリーがあったら、評価を行いましょう。デザイナーはクライアントがロゴデザインに何を求めているか知ることができます。
感想を伝える
99designsの優れたコラボレーションツールを利用して、ピンポイントに希望を伝えることができます
デザイン入手までの過程で、多くの才能あるデザイナーと出会うことができます
コンペで楽しくデザインを入手しましょう
最近終了したコンペ:
他の衣料品・アパレルのインスピレーションをチェック