Mrjerryboies さんはデザインコンペを開催して新しい ウェブ を入手しました。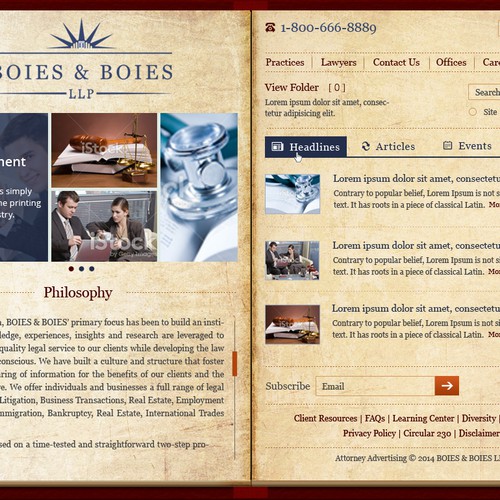 by AxilSolutions
BOIES & BOIES LLP - A Premier New York Based Law Firm
Mrjerryboiesさんの ウェブ コンペをチェックしましょう
We are premier law firm that provides an array of services including: Business transactions, civil litigation, immigration, healthcare, landlord/tenant.
The idea is to make the site look like a law book while it contains all the essence of a website. So the main page is like an open law book with two sides. The left side would have the "Philosophy" of the firm  above, with some great photos incorporated like construction/healthcare/contracts/business/immigration/litigation photos. See what makes sense. The right side would have the "Contents" and video, media, press, and news that I mentioned above. The idea is: when you click on the pages/links under the "Contents," the pages will flip like you're flipping pages of a book, opening that page to the left.  Please try "Diploma" font for the words "Philosophy" and "Contents" in big and bold letters such as this site: http://www.cravath.com/philosophy/ Although the main colors for the site is the same as the logo below: navy blue and white, but please add some colors that you think would work while we keep the site somewhat conservative.  I'd like the background to be clean and not busy.  See if you can incorporate the logo below somehow within the main page.  I'd like the book to the main the page while it's still almost a normal website within a book.  My actual Logo is attached below.  At the bottom of the main page will be have the required disclaimer: Attorney Advertising © 2014 BOIES & BOIES LLP You probably can include at the bottom as: Contact US, Disclaimer, Sitemap ........ I would like a "Select Language" tab on the top right corner of the page, to the extent that it blends well with the book.  The toll free number should be incorporated somewhere: BOIES & BOIES Toll Free at 1-800-666-8889 Please make sure the book looks like it has multiple pages underneath the pages that open just like you normally open a book. 
Philosophy From its inception, BOIES & BOIES' primary focus has been to build an institution where knowledge, experiences, insights and research are leveraged to deliver the highest quality legal service to our clients while developing the law and being socially conscious. We have built a culture and structure that foster the appropriate sharing of information for the benefits of our clients and the community we serve. We offer individuals and businesses a full range of legal services from Civil Litigation, Business Transactions, Real Estate, Employment Law, Healthcare, Immigration, Bankruptcy, Real Estate, International Trades and more. Our approach is based on a time-tested and straightforward two-step process. When a client comes to us, after we conduct our extensive and rigorous due diligence and investigation by bringing the best team together: (1) we address our clients' specific immediate legal needs; and (2) we strategically take a long-range view of our clients' situations and implement a sustainable solution. Providing our clients with excellent, expeditious and cost-efficient legal services has always been our cornerstone. Our clients understand that when they find themselves at the center of certain challenging legal issues, they can count on us to zealously represent them. The right side of the page should have the "Contents," and video, media, press, news. You can be creative with that side.  Contents » Practice Areas » Lawyers » Contact Us » Offices » News & Updates » Client Resources » Careers » Learning Center » Diversity » Pro Bono » FAQs » Be Social » Privacy Policy » Our Sports/Entertainment » Archives » Disclaimers » Client Portal
Avoid the page scrolling up and down. Once someone goes on the site, the entire page should be right on the screen.
Having a clean main page. The more the mail page can look like a normal site withing a law book, the better.
すべてのデザインカテゴリーで予算に沿って 柔軟に価格を設定 できます。 ウェブ は ¥64,499 〜
すぐに使用可能なデジタル用、印刷用ファイルと著作権。
全てはデザインブリーフから
簡単でインタラクティブなガイドに従って、希望のスタイルを伝えましょう。デザイナーはウェブに必要なものは何かを正確に把握することができます。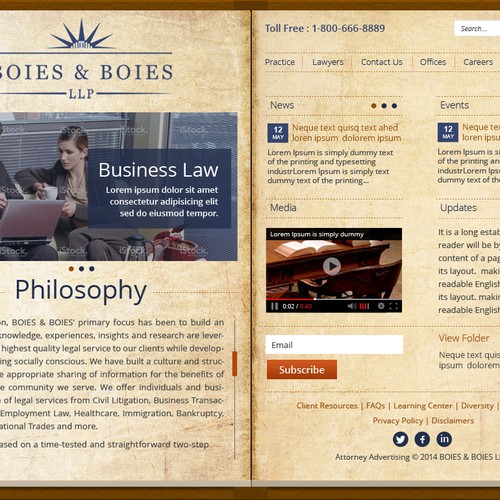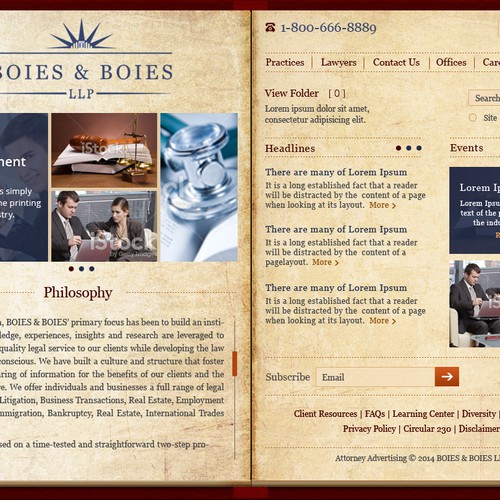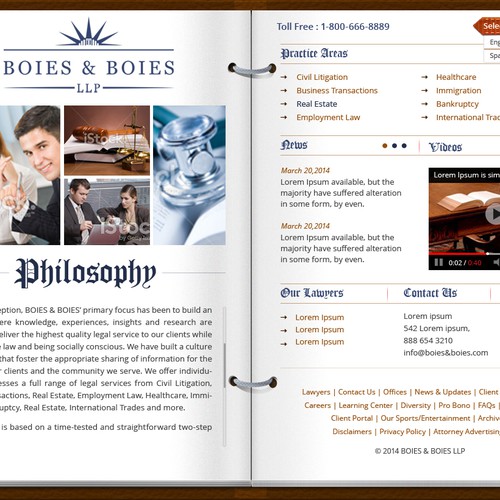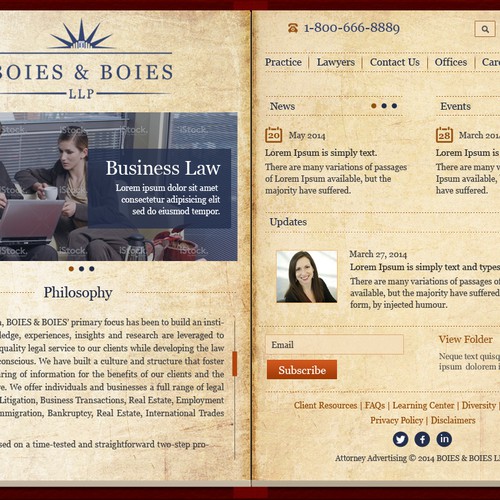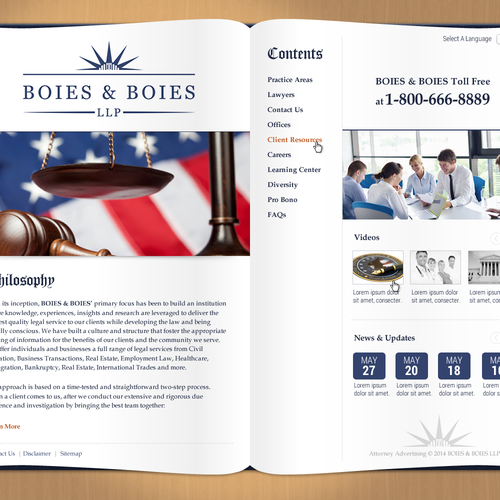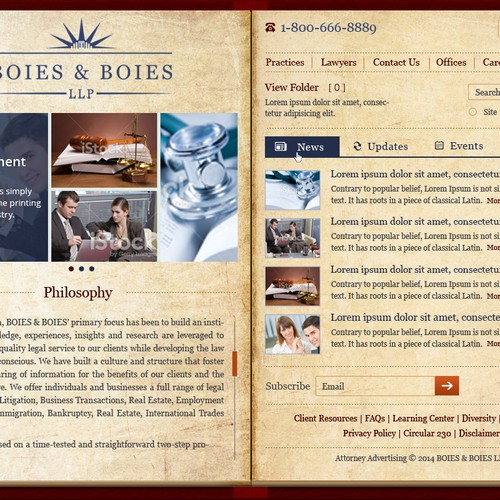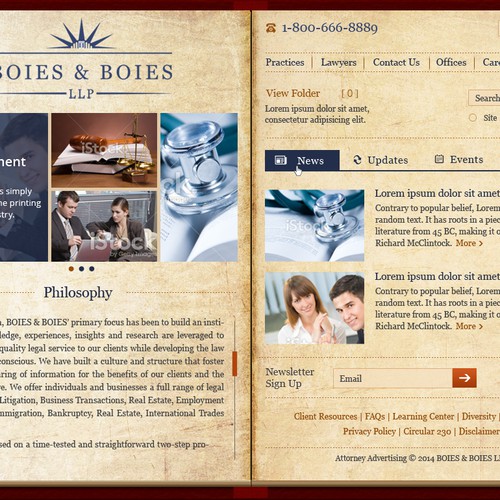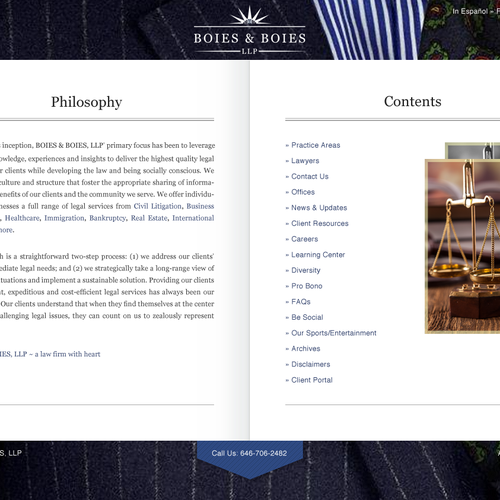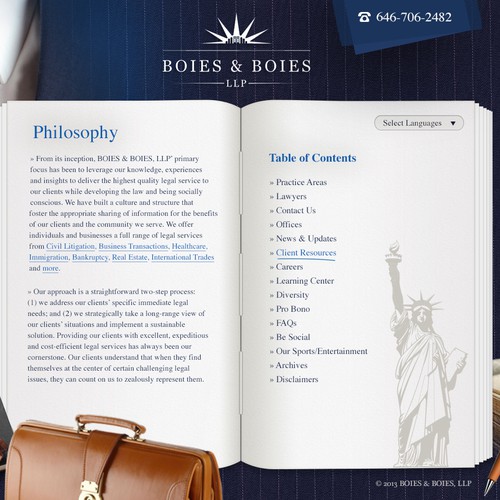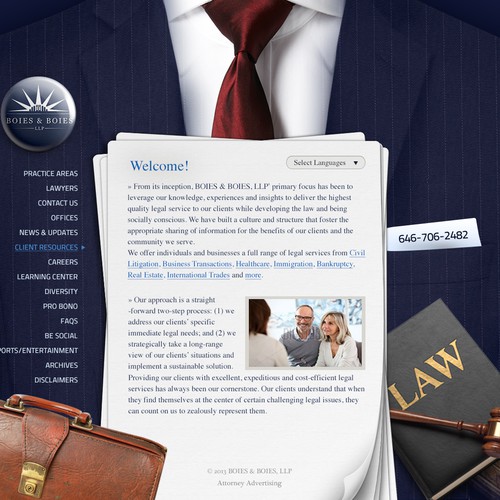 世界中の経験豊富なデザイナーから多くのコンセプトを入手できます。
才能あるプロの ウェブ デザイナーと協力して、アイデアを実現させましょう。
お気に入りの ウェブ を1つ選択しましょう(2つもしくは3つも可能)。デザインは全てあなたのものになります。
Mrjerryboies さんはデザイナーと協力してアイデアを磨き上げました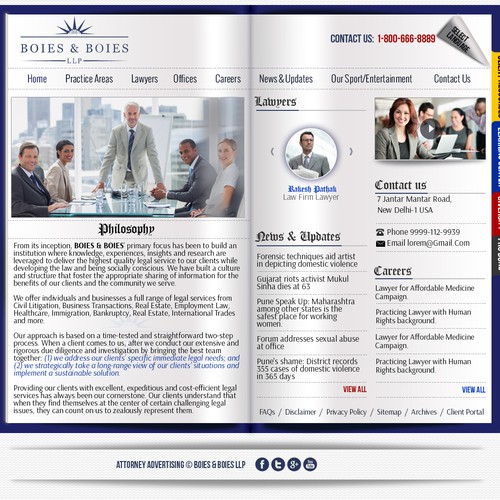 デザインを評価
デザインのエントリーがあったら、評価を行いましょう。デザイナーはクライアントがロゴデザインに何を求めているか知ることができます。
感想を伝える
99designsの優れたコラボレーションツールを利用して、ピンポイントに希望を伝えることができます
デザイン入手までの過程で、多くの才能あるデザイナーと出会うことができます
コンペで楽しくデザインを入手しましょう
最近終了したコンペ:
他の弁護士・法律デザインのインスピレーションをチェック