Bryte Guys さんはデザインコンペを開催して新しい ウェブ を入手しました。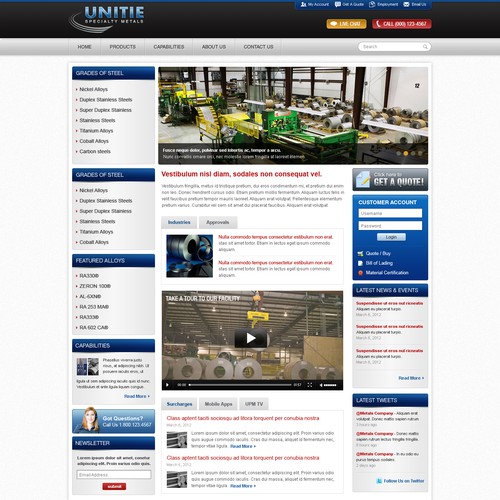 by Rock$tar99
Create the next website design for Not Given – Metals Service Center – Metals Distribution
Bryte Guysさんの ウェブ コンペをチェックしましょう
Company is a metals service center that sells specialty metals. In addition to selling specialty metals, the company also offers services like slitting, shearing, leveling, laser cutting, blanking, sawing, etc. The company has multiple locations domestically and abroad.
www.hobartwelders.com www.majesticsteel.com www.rolledalloys.com www.shoei-helmets.com
The company website is used to promote its products and services – as well as a customer service tool that provides current customers the ability to quote, check orders and obtain important documentation. The site's primary audiences are: Purchasing Agent: Our primary audience remains the purchasing agent. We believe their primary goal is to find the metal they are looking for. (i.e. do we carry the grade, gauge/thickness and shape they are looking for. They are also interested in tools that can help them to do their job better. An example would be the surcharge update. Our primary goal for this group is to generate a request for quote, whether it be online, via a telephone call or via fax. Engineer: Engineers are another audience for our site. We believe their primary goal is to determine what metal is best suited for their application. They will be most interested in chemical, physical and general material properties. Our primary goal for this group is to have them specify our material in the product/solution they are designing. This might mean clicking on either a link to chemical/physical properties or clicking on a pdf document. Administrative Support Staff: The site could also be used by administrative staff who are coming in to look up invoices, recent orders, bills of laiding, quality certificates etc. Our primary goal for this group is to deliver efficiency. This means they are able to find what they are looking for without additional assistance from our sales staff. This will probably mean clicking on one of the available services and viewing a document (bill of lading, material certification, etc.) Site Functionality The following functionality is required for the website and should probably be highlighted on the front page: 1. Display of the grades and gauges we carry – access is as few clicks as possible 2. The ability to get online quotes 3. Self-service to needed documents – They should be able to quickly get to a 'my account' area where they can access important information and documents like orders, certs, bills of laiding, etc. 4. The ability to get engineering information on the grades we carry 5. Access to surcharge information 6. Highlight our facility (videos) 7. Access to our mobile applications 8. Access to our social media sites 9. Prominent display of our telephone number 10. Access to online chat 11. Information on the markets we serve 12. Information on the quality approvals we have
Please note the "strawman" file we've added as a guide to some of the information we'd like highlighted on the homepage. Drupal templates we like, BUT we do not want any Flash on the site: http://www.templatemonstersearch.com/ Enter no. '31239' and hit 'search'. This is a template called Optimus Enter no. '37886' and hit 'search'. This is a template called Primex Colors to incorporate (see upload): Below, the color palette has been shared from our style guide; BUT we are open to the inclusion of other colors. One of the concerns with the palette is that we do not want the site to appear "too red, white, and blue" and we are open to the use of other colors.
すべてのデザインカテゴリーで予算に沿って 柔軟に価格を設定 できます。 ウェブ は ¥64,499 〜
すぐに使用可能なデジタル用、印刷用ファイルと著作権。
全てはデザインブリーフから
簡単でインタラクティブなガイドに従って、希望のスタイルを伝えましょう。デザイナーはウェブに必要なものは何かを正確に把握することができます。
Bryte Guys さんはデザイナーと協力してアイデアを磨き上げました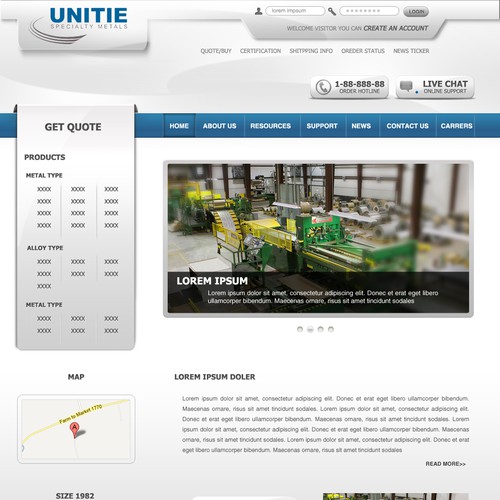 デザインを評価
デザインのエントリーがあったら、評価を行いましょう。デザイナーはクライアントがロゴデザインに何を求めているか知ることができます。
感想を伝える
99designsの優れたコラボレーションツールを利用して、ピンポイントに希望を伝えることができます
デザイン入手までの過程で、多くの才能あるデザイナーと出会うことができます
コンペで楽しくデザインを入手しましょう
最近終了したコンペ:
他の工業・製造業デザインのインスピレーションをチェック