Tessa714 さんはデザインコンペを開催して新しい ウェブ を入手しました。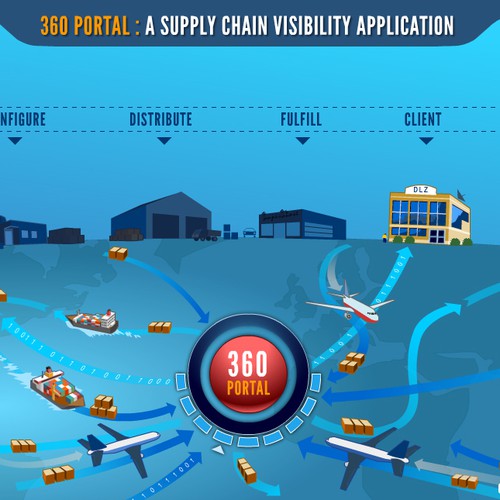 by thelambs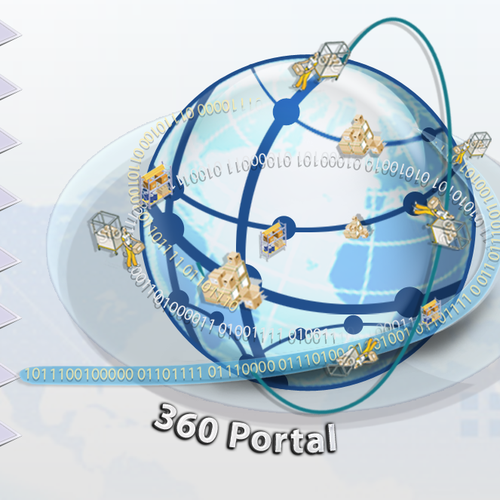 by Blue-Lotus
Cutting edge landing page needed for supply chain website
Tessa714さんの ウェブ コンペをチェックしましょう
We are a supply chain services company. A very brief explanation of what this means is we help other companies to create new products, get those products manufactured in factories, shipped to our configuration facilities to package them up into finished goods ready for retail sales in different countries. We also handle the logistics and distribution of the product and ship to in-country warehouses (hubs) for storing the product. We also do fulfilment which means we do direct shipments to end customers if they purchase online from our customers.
http://ge.ecomagination.com/smartgrid/#/landing_page http://tntrailsandbyways.com/#ring-of-fire http://www.pmgi.fr/php/intervention.php?page=supplychain http://www.sectionseven.com/index2.html http://www.momentoftruth.com/ http://www.fourthedesign.gr/fourthedesign.html http://www.legendsofvalhalla.com/#!/thrym We would like you to be creative! We have attached various images/links we think might inspire you. The ones we particularly like are the • GE site (less of the hyper-realism and more of the illustrated feel of Supply-chain3 and supply-chain5 graphics) – but we love the counter animation (nice way to show a stat or two?) and the interactive feel. • Supply-chain5 graphic – particularly the feel of the horizon with the greyed out buildings (could that work for sections not used or just dormant link until hovered over?) Also like the supply chain feel of the top circles – the flow idea comes across strongly. • Supply-chain3 – could this start as a flat block-designed graphic (9 blocks – the non-active ones just colours ) and when one hovers over the active sections, the services 'grow out and up – stretching to cover other blocks. See the link for the Valhalla website – more for how the blocks grow to cover others. We see a more perspective and 3D version for this idea tho!
We have developed a supply chain visibility application. Supply chain visibility means being able to show our clients the status of their orders and visibility of where there inventory(product) is in the supply chain at any time. The name is still to be decided but possible names are "360 Portal", "Total Visibility". It delivers visibility of the complete inventory pipeline of both in-motion and on-hand inventory across the extended network from supplier to customer. Please provide a storyboard showing how the interactivity would work as well as final graphics. This must be able to be practically applied with HTML5 or jquery scripting/similar. Description of Brief We are looking for concepts for the landing page of this supply chain visibility application. We want the page to be interactive and innovative. The landing page is the first thing the client will see after logging into the web application. The client will see a minimum of 3 sections but may see more depending on the number of services we are managing for them. Below are the 7 sections we are starting with and this may grow to 9 in the future. • Client orders • Manufacture • Configure • Distribute • Fulfill • Hubs (Storage facilities of product) • Financials A description of each section is provided below to help with the development of possible icons or graphics representing them. The graphic should give an immediate overview of all the services (and only those) currently being managed for the client by us. It should also represent the supply chain process in some way (a continuous flow – circle, line, cogs or even collection of blocks that fit together) By hovering over a link, the graphic should change to show more of the selected service – both graphically and practically – ie it could show a more detailed/animated image of the service but also a few stats from the dashboards and reports –some examples of which supplied in additional material. (Does this happen with a popup, the whole graphic expanding and changing, transparencies being revealed? You tell us.) Only once the client has actively clicked the link, will they be taken to the next level. One of the most important things to remember is that this graphic/interactive display must be able to grow and contract depending on the client specifics. As mentioned before, the minimum number of sections viewable to a client will be three, with two being Client Orders and Financials and the third being any of the rest – but could well be all seven of the sections and this may grow to nine in the future. We would like you to be creative! We have attached various images/links we think might inspire you.
To summarise, the design should: • Represent the core business – "Supply chain visibility". • The diagram sections should fit together as a continuous and complete flow regardless of the sections enabled. One should never feel that something is lacking – however few sections are shown at the time. • Incorporate the visibility and transparency theme if possible. • Should not be cluttered. • Each section needs to be easily identifiable. • It should be an original, innovative, world class design representing the latest trends in web design. • Needs to be created in web 2.0 look (can have html5 animation etc). Here is a description of each service Client Orders (this section will always be shown) The Clients Order Dashboard graphically depicts the client's order book showing orders for products placed by the client with us. Orders can be drilled down into and analysed in a variety of ways from date, ship to destination, product type to status. Manufacture This is the client's view into the supply chain network, they can see all purchasing related details for orders placed with suppliers in China. Drill down for detailed view or analyse using different measures. Configure This section includes raw material dashboards which allows users to track the key raw material inventory levels across the supply chain. Transparency into the factory floor and kitting/ /assembly/production details of raw materials and packaging into finished product is provided. Distribute The Distribute Dashboard provides visibility into both historic shipments and forthcoming shipments from us to a client. Users can drill down for more detailed information on freight and logistics or analyse transactions by product types and dates. Fulfill Transparency into the Fulfillment centre activities is provided in the Fulfill dashboard. The fulfilment service ships direct to DCs (distribution centres), stores and end customers. Users can evaluate the volumes and order types (B2B v B2B) managed each month and drill down to see daily trends. Hubs This is an essential tool to manage stock in warehouses around the world: • Inventory pipeline – visibilty into the inventory pipeline from WIP (work in progress), in transit inventory to inventory in each warehouse. • Inventory world view – graphically see where in the world your stock is currently located. • Inventory aging – what value of stock is where and how long has it been there? Financials (this section will always be shown) The section provides a summary of the financial transactions between a client and us. Users can analyse: • historic sales • open invoices • invoice payment information This has been added in answer to a question: This has been added: You will only need to design one page. That is the landing page. The challenge is to show the sections relevant to the client. ie the design must work with 3 or with 7 (ultimately up to 9) different clickable options. It will always show Client Orders and Financials and the third being any of the rest – but could well be all seven of the sections. The next level down will have dashboards but you don't need to worry about that. But if you could come up with any ideas as to how we could show a glimpse of those (in numbers or counters) in the top level. For example, if a client came to their landing page and only had 3 sections visible Client orders, Financials, and Hubs - they would only see those, but they might see as they hovered over financials that they had 2 outstanding invoices of x amount, 3 paid of y amount... etc. For Hubs they would see they had x amount of stock in warehouse 3, y amount of stock in warehouse 2.. .etc. I know you don't have any of these numbers, but we will accept any dummy copy - we just would like to see how that information could be displayed in a clever and interesting way. We do not need the site to in any way represent our 'mother' site. Whoever wins might be asked to implement a header and footer separately as another project. I hope this answers your questions!
すべてのデザインカテゴリーで予算に沿って 柔軟に価格を設定 できます。 ウェブ は ¥64,499 〜
すぐに使用可能なデジタル用、印刷用ファイルと著作権。
全てはデザインブリーフから
簡単でインタラクティブなガイドに従って、希望のスタイルを伝えましょう。デザイナーはウェブに必要なものは何かを正確に把握することができます。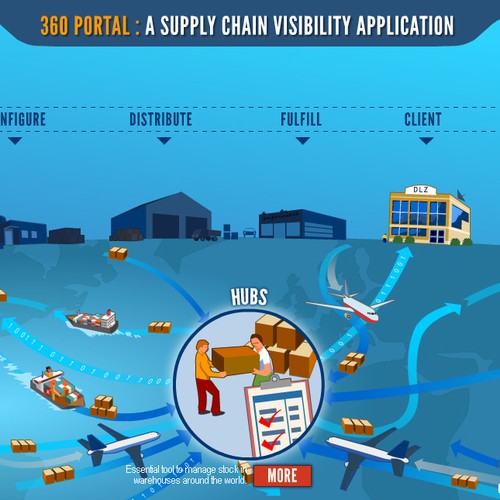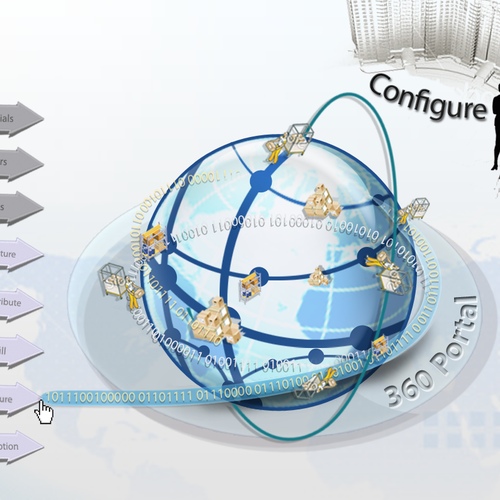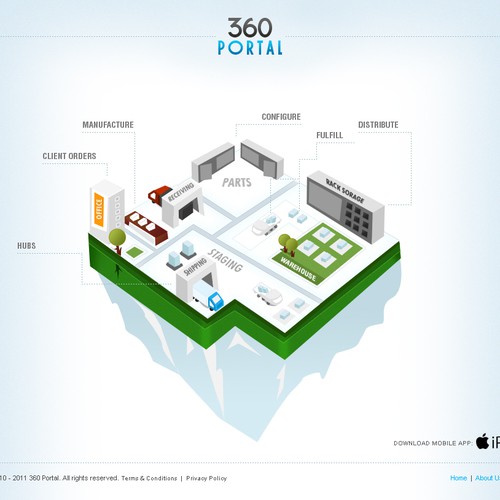 世界中の経験豊富なデザイナーから多くのコンセプトを入手できます。
才能あるプロの ウェブ デザイナーと協力して、アイデアを実現させましょう。
お気に入りの ウェブ を1つ選択しましょう(2つもしくは3つも可能)。デザインは全てあなたのものになります。
Tessa714 さんはデザイナーと協力してアイデアを磨き上げました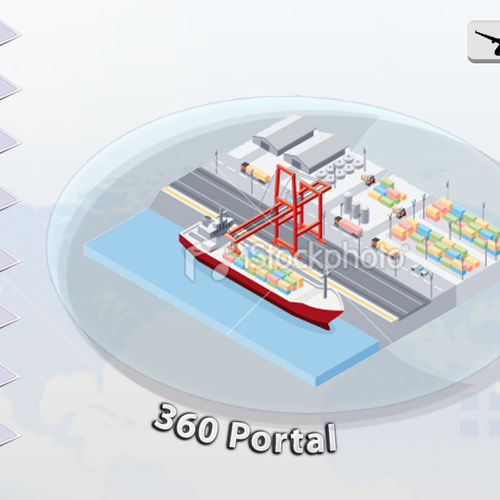 デザインを評価
デザインのエントリーがあったら、評価を行いましょう。デザイナーはクライアントがロゴデザインに何を求めているか知ることができます。
感想を伝える
99designsの優れたコラボレーションツールを利用して、ピンポイントに希望を伝えることができます
コンペで楽しくデザインを入手しましょう
最近終了したコンペ:
他の工業・製造業デザインのインスピレーションをチェック