Ray.dellinger さんはデザインコンペを開催して新しい ウェブ を入手しました。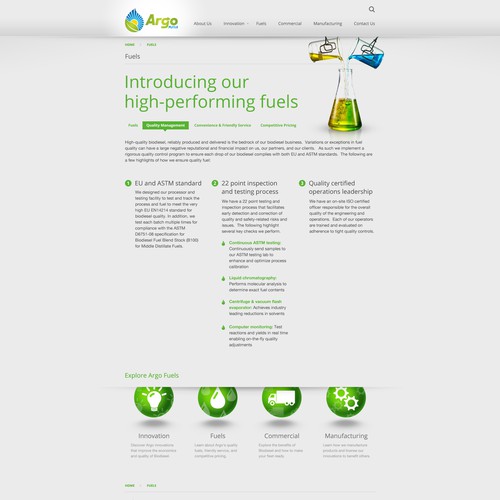 by designjunkie
Help Argo Fuels with a new website design
Ray.dellingerさんの ウェブ コンペをチェックしましょう
• We're a "Biodiesel Innovation Company" or a "Fuelling Innovation Company" that focuses on developing and manufacturing innovations that reduce cost, increases quality, and improve profitability of existing and future biodiesel operations. We apply and refine our innovations in our own biodiesel processors to make ultra low carbon, and high-quality biodiesel for commercial consumption.
http://www.propelfuels.com/ http://www.sapphireenergy.com/ http://coskata.com/ http://bfreinc.com/ http://www.regfuel.com/ but better
*Primary Pages / Navigation* Page: home page; should introduce us as a company fueling biodiesel innovation; should outline our emphasis on applied innovation and superior fuels. imagery and colors should be on innovation and sustainable fuels (blue, green, - but open to new ideas as well); the emphasis should be on innovation, fuels, and manufacturing (like the current site) Page: About; more details on the company, our team, etc. Page: Innovation; descriptor: "How were different"; tab / page imagery - light bulb, brain, scentific instrument, wheel, cogs, etc; Our quality biodiesel" sub heading; Page: Fuels; descriptor: "Our quality biodiesel"; navigation / page image: green gas pump; key content: • Describe our core b100 product produced via waste and straight oil streams. • Describe how it's industry-leading quality and associated benefit to engines • Ability to mix on-site or at your location to produce B5, B20, B50, B99, or B100 • Our policy to beat any advertised commercial biodiesel price Page: Manufacturing; descriptor: "Applied Biodiesel Innovations"; tab / page imagery: Interlocking sprockets, tools, etc; page content: • What we do: design and fabrication of core biodiesel conversion rigs, waste vegitable oil pre-processors, etc. based on our innovative "Argo Core Processor" technologies. • Customize "add-ons" to make the rig meet your budget, performance, and throughput requirements (levels of automation, tank sizes, manual vs computerized, etc.) • Support & Maintenance - we support you after purchase and delivery Page: Fleet / Commercial; descriptor: "Be green, save green" imagery: Truck, heavy equipment, green equipment useage, etc. content: • Savings • Quality • Environmental benefit • Flexibility in meeting feelt and commercial needs Page: Contact us *Secondary Pages / Navigation* About us: • Vision / mission statement • Executive team Contact us: Contact info; map to our location Resources: Links to studys, industry news, about bio, etc.
• We're a "Biodiesel Innovation Company" or a "Fuelling Innovation Company" that focuses on developing and manufacturing innovations that reduce cost, increases quality, and improve profitability of existing and future biodiesel operations. We apply and refine our innovations in our own biodiesel processors to make ultra low carbon, and high-quality biodiesel for commercial consumption. • Our website content and structure will be primarily geared towards B2B - bulk buyers of our finished biodiesel product and towards potential customers of our rig fabrication business. We want the site to reflect what commercial buyers want as well as what individual consumers may be thinking / feeling as it pertains to alternative fuels. • Logo and tag lines o Our name with emphasis on the word "go" - as in moving forward o "Bio-fuels Innovation" o 'Fuelling Progress' • Key Indirect Messaging / Themes: The overall themes our website should communicate (via colors, positioning of content, and imagery / icons) o Applied innovation: our primary theme is sustainable fuel innovation; e.g. it should communicate that we're the inventors of new ideas and are innovative in making those ideas work now; this is opposed to people who refer to alternative fuels as the future.  Key Phrases: "Applied Innovation", "Making bio diesel work", ""Alternative fuels now"  Key Images / Icons: light bulb, brain, stone wheel, arrow denoting trajectory and forward movement, interlocking sprockets  Color that represents innovation (our sites primary color): blue and maybe something on the blue or red spectrum o Sustainability / Independence: our supporting theme is sustainability and fuel independence.  Key images / icons: plant, leave, closed loop, seed  Key words: independence, local, safety, renewable, self-sufficient, sustainable  Colors: green (as in environmental, sustainable, etc.) and potentialy brown (as in soil)
すべてのデザインカテゴリーで予算に沿って 柔軟に価格を設定 できます。 ウェブ は ¥64,499 〜
すぐに使用可能なデジタル用、印刷用ファイルと著作権。
全てはデザインブリーフから
簡単でインタラクティブなガイドに従って、希望のスタイルを伝えましょう。デザイナーはウェブに必要なものは何かを正確に把握することができます。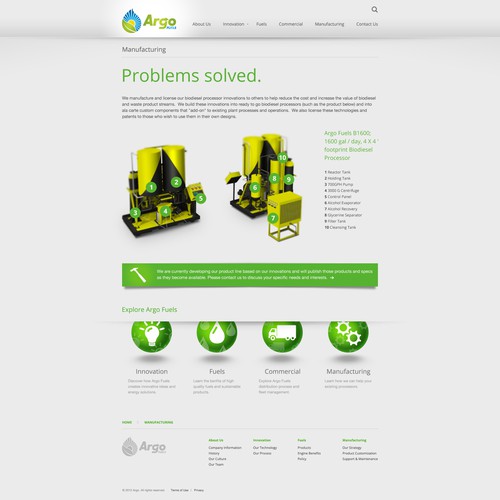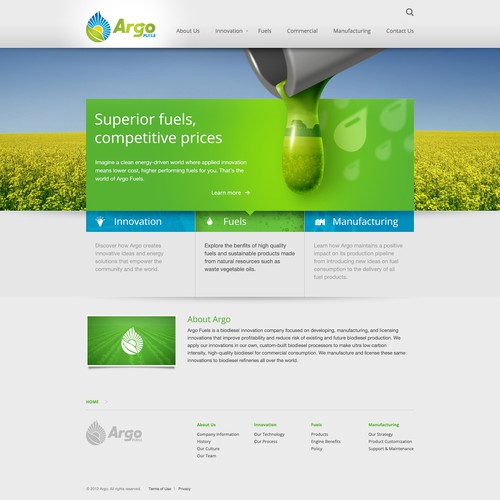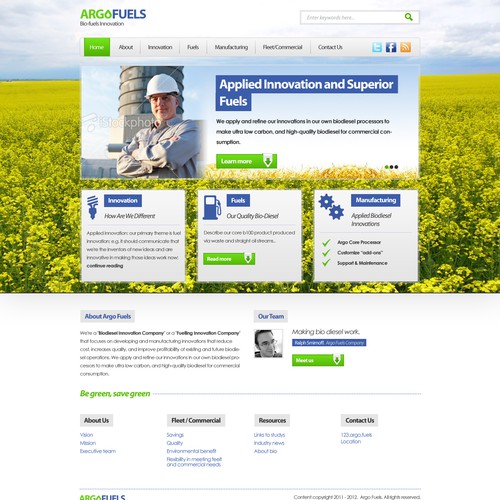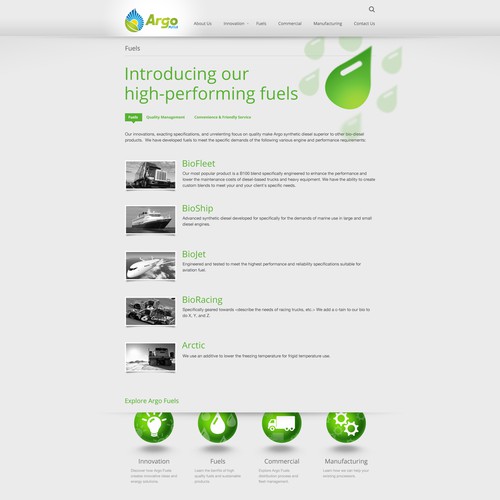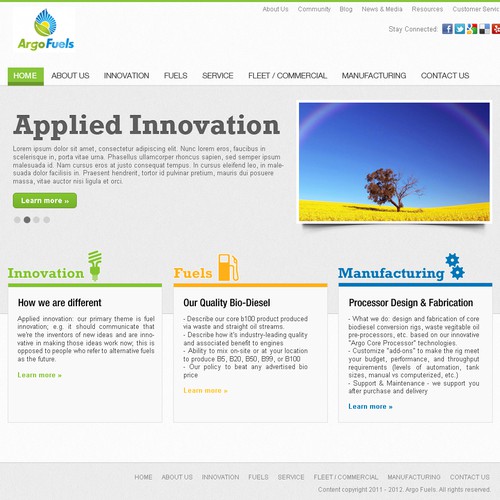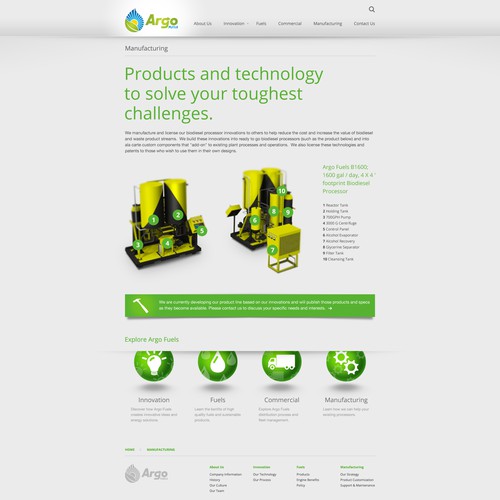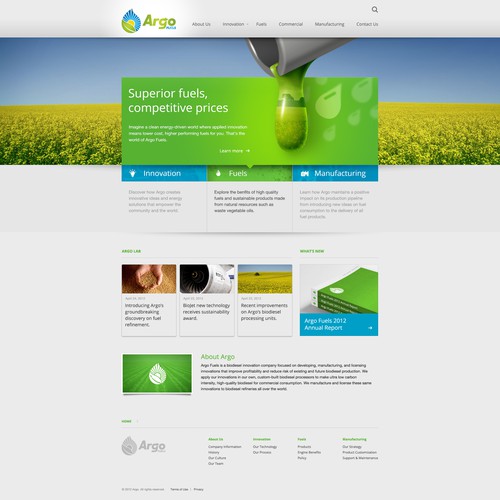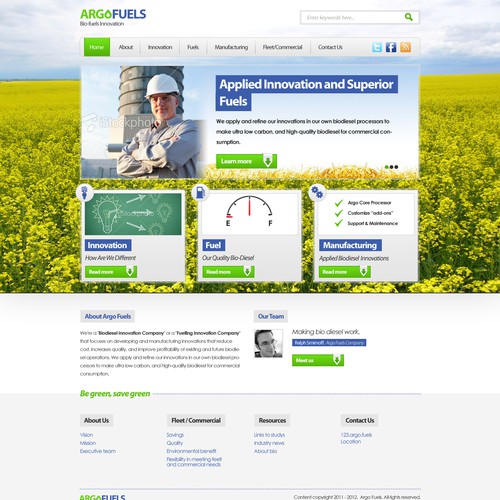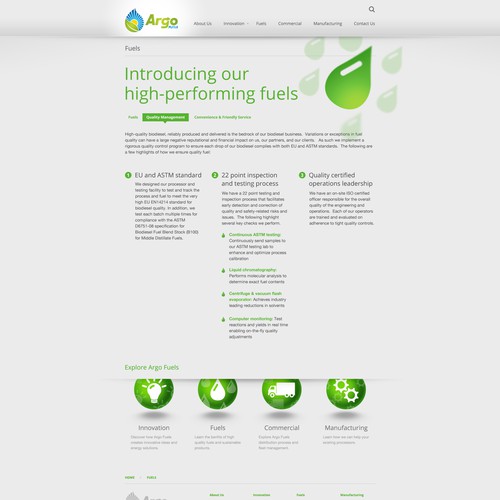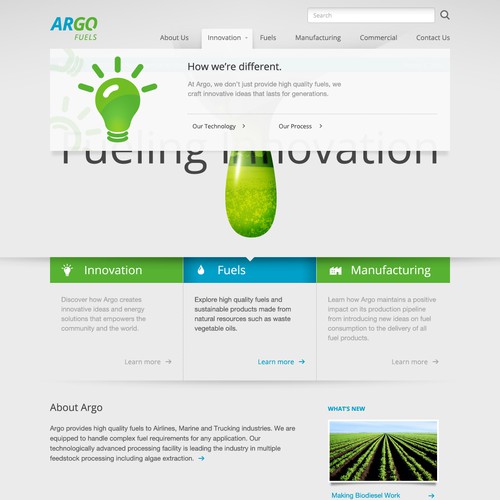 世界中の経験豊富なデザイナーから多くのコンセプトを入手できます。
才能あるプロの ウェブ デザイナーと協力して、アイデアを実現させましょう。
お気に入りの ウェブ を1つ選択しましょう(2つもしくは3つも可能)。デザインは全てあなたのものになります。
Ray.dellinger さんはデザイナーと協力してアイデアを磨き上げました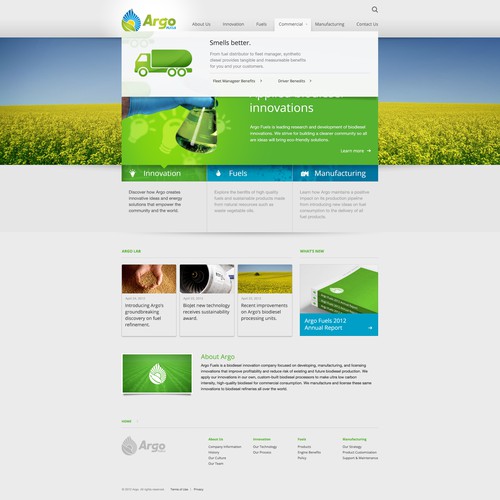 デザインを評価
デザインのエントリーがあったら、評価を行いましょう。デザイナーはクライアントがロゴデザインに何を求めているか知ることができます。
感想を伝える
99designsの優れたコラボレーションツールを利用して、ピンポイントに希望を伝えることができます
デザイン入手までの過程で、多くの才能あるデザイナーと出会うことができます
コンペで楽しくデザインを入手しましょう
最近終了したコンペ:
他の工業・製造業デザインのインスピレーションをチェック