Info56811 さんはデザインコンペを開催して新しい ウェブ を入手しました。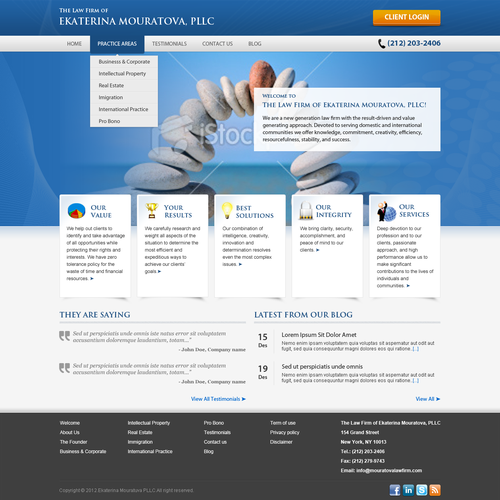 by R_ka Sakha
The Law Firm of Ekaterina Mouratova, PLLC needs a new website design
Info56811さんの ウェブ コンペをチェックしましょう
This is a website for a law firm. I. Target Market: Individual Entrepreneurs, Small & Mid-Sized Companies, Business Owners, Investors • $500,000 – 100 M in annual revenues • Start-Ups or have 1—1,000 employees • Are headquartered in New York State area or abroad (international companies and investors, who want to establish business interests in USA) • Need legal assistance with establishing a new business entity, daily operations, contracts, RE leases & other transactions, employment matters, protecting their IP, immigration for their employees & families, want to grow nationally or internationally We are open to any business and industry Service Niche: general business, IP (trademarks & copyrights), immigration, real estate. Geographic Niche: NY or located abroad looking for US presence Specialty-Market Niche: small and medium-size businesses, start-ups, privately & publicly held companies, white collar executives, blue collar workers, immigrants. II. Contact Information: The Law Firm of Ekaterina Mouratova, PLLC 154 Grand Street New York, NY 10013 Tel.: (212) 203-2406 Fax: (212) 279-9743 Email: info@mouratovalawfirm.com www.mouratovalawfirm.com III. Main Menu & Practice Areas: Website headers (5 headers with sub-headers): © 2012 The Law Firm of Ekaterina Mouratova, PLLC (in the bottom of the page) (Disclaimer/Terms of Use link is in the bottom of 1st page) 1. Home (sub-headers - Welcome, About Us, Message from the Founder 2. Practice Areas (sub-headers - Business & Corporate, Intellectual Property, Real Estate, Immigration, International Practice, Pro Bono) 3. Client Testimonials 4. Contact Us 5. Blog (our Blog already exists, will have to link it)
Design Guidelines: Prevailing colors – blue & white. Modern design, feel free to use creativity. Flash images, but not the ones that takes long to download (flash images is not a requirement, if you feel it's better without them, it's OK. I just thought a website with them may look more interactive). Voluminous - not cluttered with narrow frames, unnecessary elements, etc. I think the screen looks wider & bigger when designers do not use the "frame" graphic. On the first page – links to our Facebook & LinkedIn pages. Disclaimer/Terms of Use link is in the bottom of 1st page. Please, no pictures of New York City, legal scales, courthouse, or other extremely widely used and trite images. I want images that reflect business oriented law firm. Samples of blue color that I want for my website: http://www.scorpiondesign.com; https://www.chase.com; http://www.panitchlaw.com/Practice-Areas/Licensing.aspx (provided only as a color sample, not as a website design sample!)
I'm ordering a one-page design now, because I think the design will stay the same on every page, I'll just change the content (e.g. in practice areas). If you think I need more than one page design, please contact me with the proposal. Home page content (the same content when click on Welcome) Welcome to The Law Firm of Ekaterina Mouratova, PLLC! We are a new generation law firm with the result-driven and value generating approach. Devoted to serving domestic and international communities we offer knowledge, commitment, creativity, efficiency, resourcefulness, stability, and success. Our guiding principles: Value – we help out clients to identify and take advantage of all opportunities while protecting their rights and interests. We have zero tolerance policy for the waste of time and financial resources. Results – we carefully research and weight all aspects of the situation to determine the most efficient and expeditious ways to achieve our clients' goals. Solutions – our combination of intelligence, creativity, innovation and determination resolves even the most complex issues Integrity – we bring clarity, security, accomplishment, and peace of mind to our clients. Service – deep devotion to our profession and to our clients, passionate approach, and high performance allow us to make significant contributions to the lives of individuals and communities.
Narrow frames, too cluttered look, overused legal images
すべてのデザインカテゴリーで予算に沿って 柔軟に価格を設定 できます。 ウェブ は ¥64,499 〜
すぐに使用可能なデジタル用、印刷用ファイルと著作権。
全てはデザインブリーフから
簡単でインタラクティブなガイドに従って、希望のスタイルを伝えましょう。デザイナーはウェブに必要なものは何かを正確に把握することができます。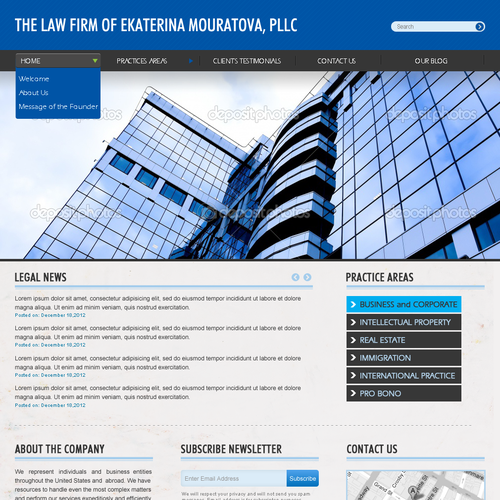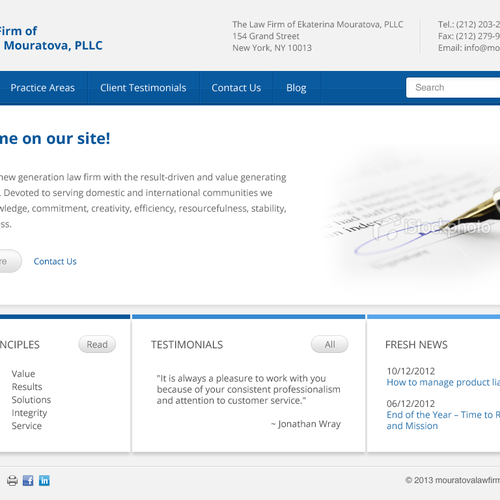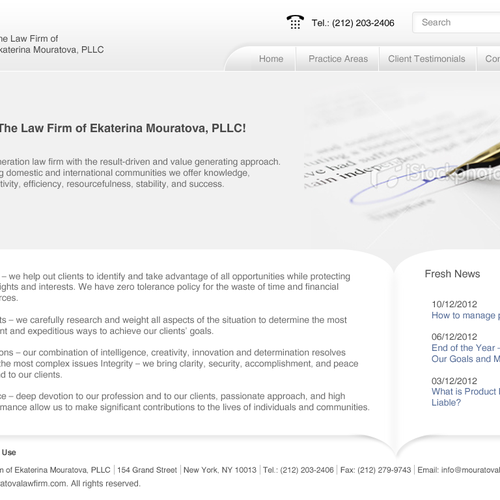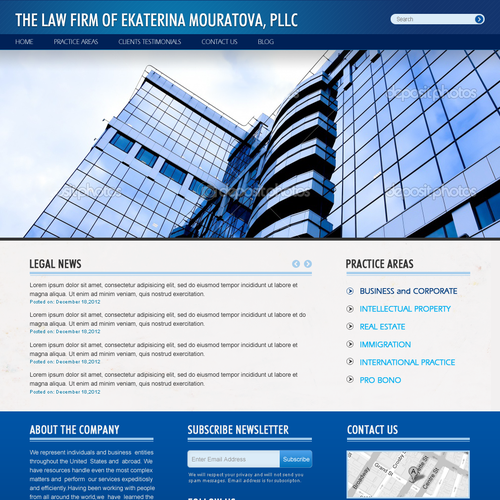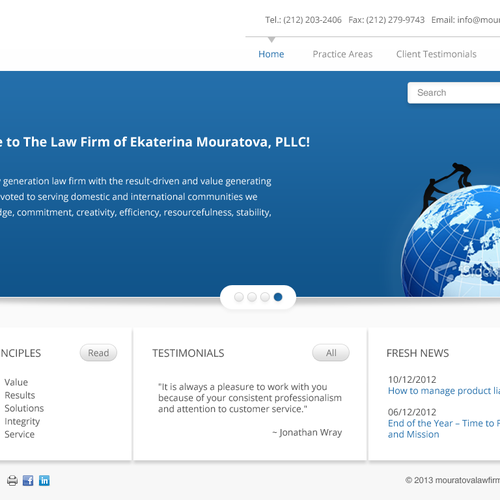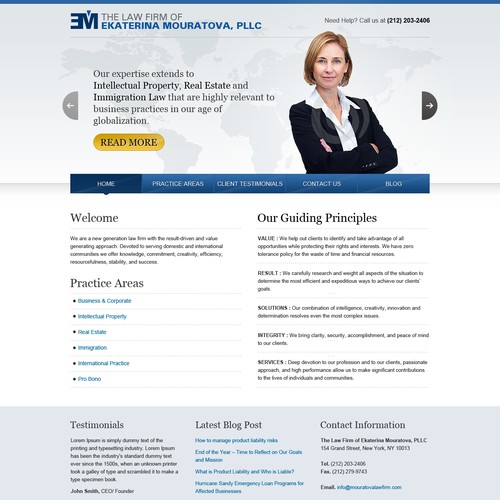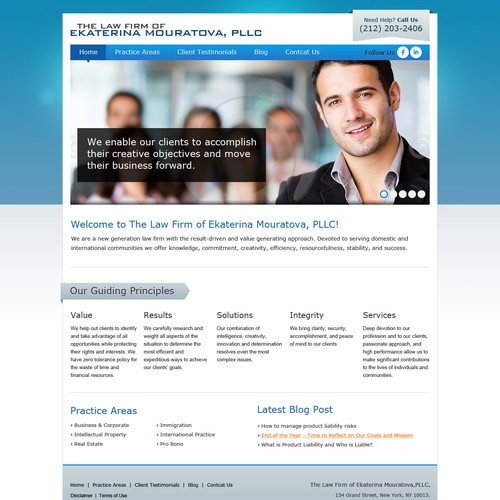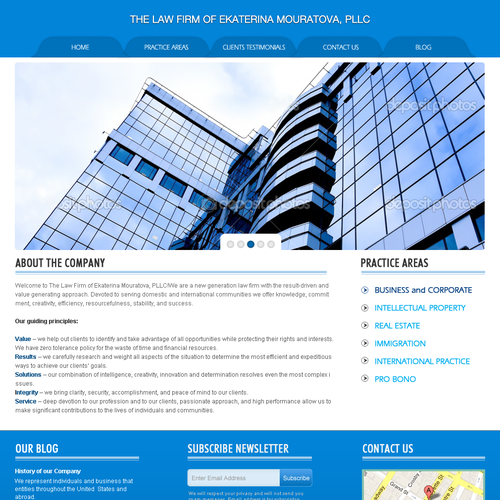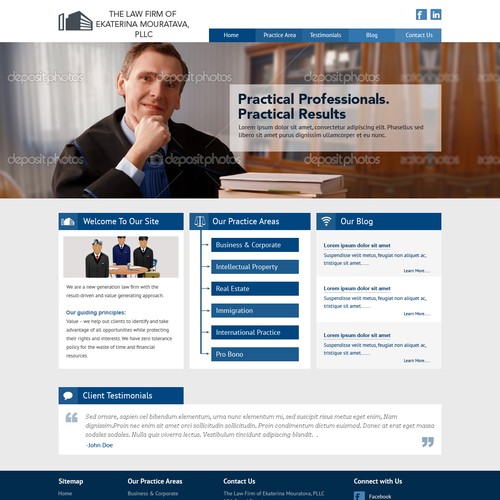 世界中の経験豊富なデザイナーから多くのコンセプトを入手できます。
才能あるプロの ウェブ デザイナーと協力して、アイデアを実現させましょう。
お気に入りの ウェブ を1つ選択しましょう(2つもしくは3つも可能)。デザインは全てあなたのものになります。
Info56811 さんはデザイナーと協力してアイデアを磨き上げました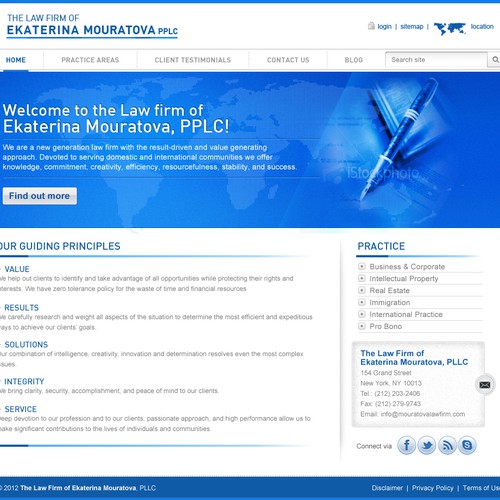 デザインを評価
デザインのエントリーがあったら、評価を行いましょう。デザイナーはクライアントがロゴデザインに何を求めているか知ることができます。
感想を伝える
99designsの優れたコラボレーションツールを利用して、ピンポイントに希望を伝えることができます
クライアント評価
R_ka Sakha was a pleasure to work with - fast, accurate and honest. I highly recommend this designer for any web project.
匿名
デザイン入手までの過程で、多くの才能あるデザイナーと出会うことができます
コンペで楽しくデザインを入手しましょう
最近終了したコンペ:
他の弁護士・法律デザインのインスピレーションをチェック