chandrab さんはデザインコンペを開催して新しい ウェブ を入手しました。
Template Needed for Business Marketplace ($350), Web2.0 Style...Guaranteed Winner!
chandrabさんの ウェブ コンペをチェックしましょう
A home page template (Coded or UnCoded) required for a ProspectMarkets. ProspectMarkets is about connecting buyers and sellers of business leads (or prospects)…think of it as a "marketplace for leads". The site helps companies acquire prospects that bring in new business to increase sales. The target market are business owners, CEOs, Vice Presidents of Sales…design should reflect this, but please nothing boring...need something creative, fun but professional.
Tagline: open to suggestions Desired Color Scheme: open to you, something that works with logos...Prefer blue feel Desired Style: Like:Web 2.0 style - simple, simple navigation, gradients, solid color areas...but feel free mix and match different ideas to get something that works. Accepted File Formats: PSD, CSS, XHTML Contest is for Uncoded and Coded Template Navigation Menu Items : Buy, Refer Lead, How It Works, BNews, Blog, Support, About Us Important areas of Template; Find Leads (big button?) Refer a Lead (big button?) Login Area needs to be prominent and easy to see Area to highlight show some of the leads that are on sale Customer Quote/Testimonial Area Search Box (text) [advanced search link] Sample Template: http://farm1.static.flickr.com/145/368642753_c346e6b743_o.jpg Corporate Logos (pick one to work with): http://farm1.static.flickr.com/146/417126428_f90bd0a5f6_o.gif http://farm1.static.flickr.com/149/417125406_ae9b150439_o.jpg Requirements: (Not all appropriate for Uncoded templates) Template 800 pixels wide Table-less CSS/XHTL layouts Viewable in IE6, IE7, FireFox 2.0 SEO friendly Easily modifiable (esp. menu items) Deliverable will be layered PSD (uncoded) or XHTML/CSS and any images/fonts required (coded). We will also require the template in Photoshop format so that we can perform changes later if necessary. The winner will recieve $275 for uncoded template and $350 for a coded template. The winner will also also create additional pages as the site is programmed based on these templates. The most talented entrants to this contests will be entered into my contact database for future design work (logos, website design, buttons, modifications etc.) If you additional information, data, graphics...please let me know via PM and I'll get them to you ASAP. Thanks and look forward to the entries! This contest was originally listed in multiple categories: - Web Page Design - Web Page Design (Coded)
すべてのデザインカテゴリーで予算に沿って 柔軟に価格を設定 できます。 ウェブ は ¥64,499 〜
すぐに使用可能なデジタル用、印刷用ファイルと著作権。
全てはデザインブリーフから
簡単でインタラクティブなガイドに従って、希望のスタイルを伝えましょう。デザイナーはウェブに必要なものは何かを正確に把握することができます。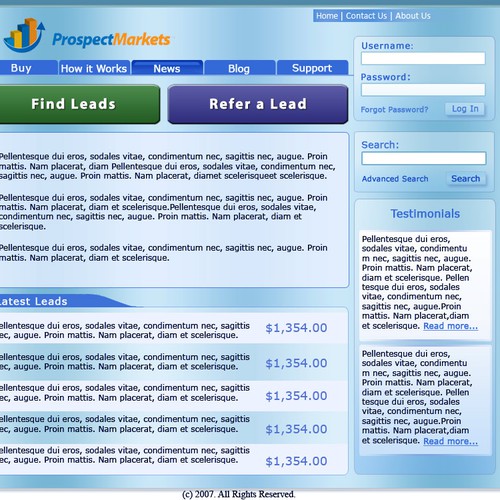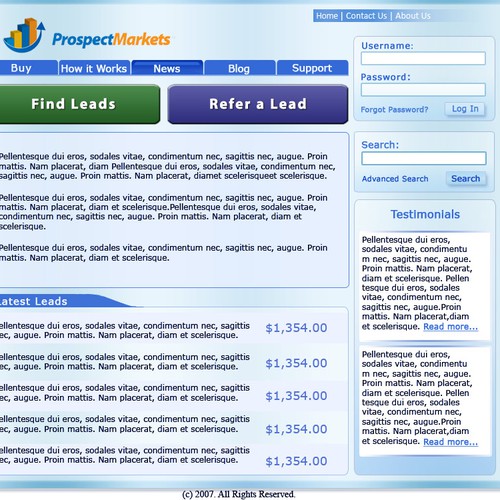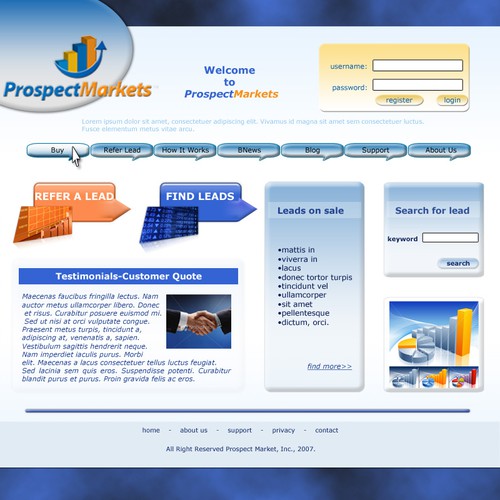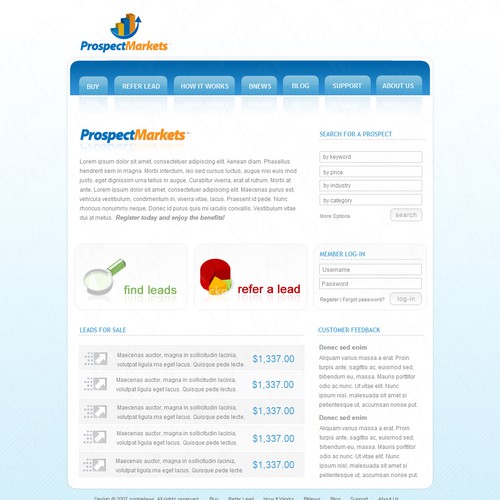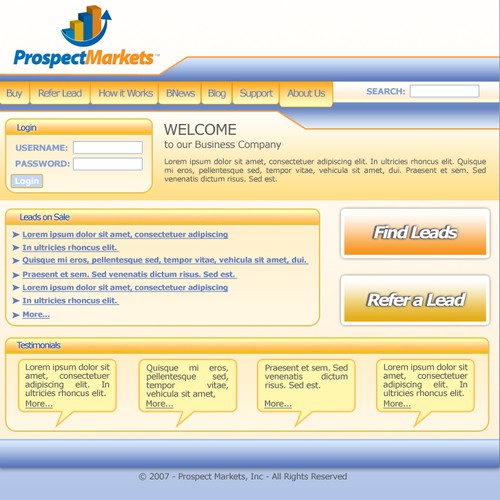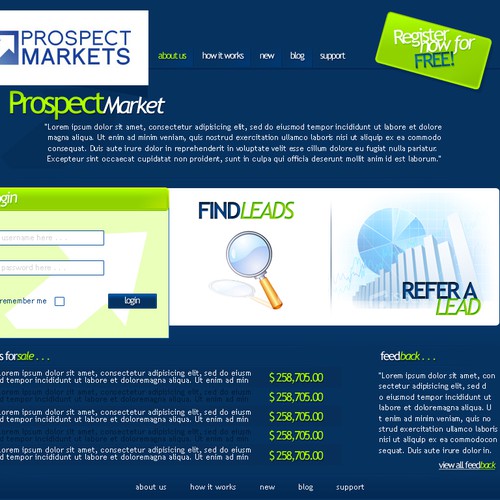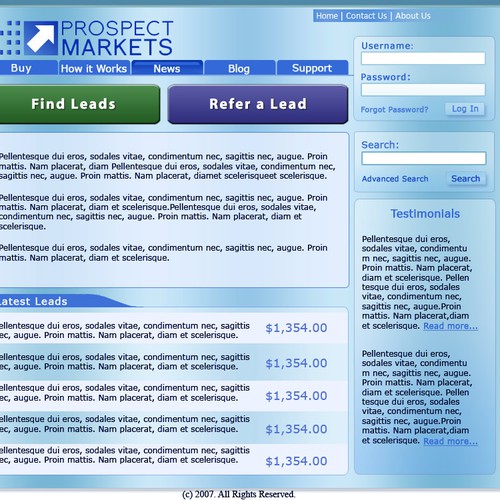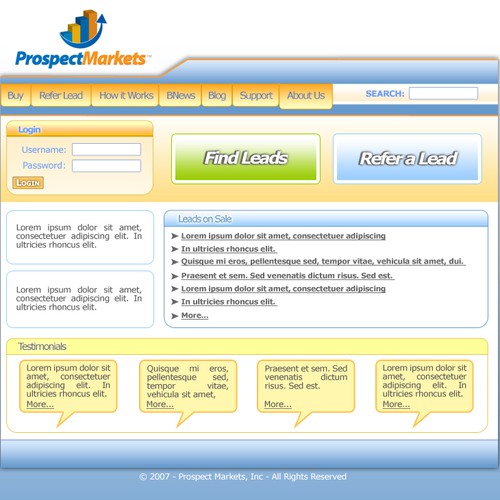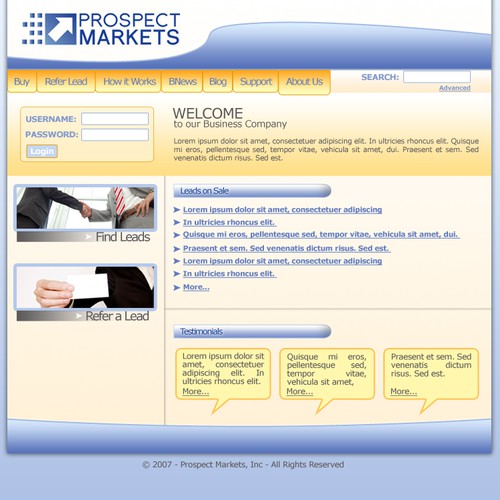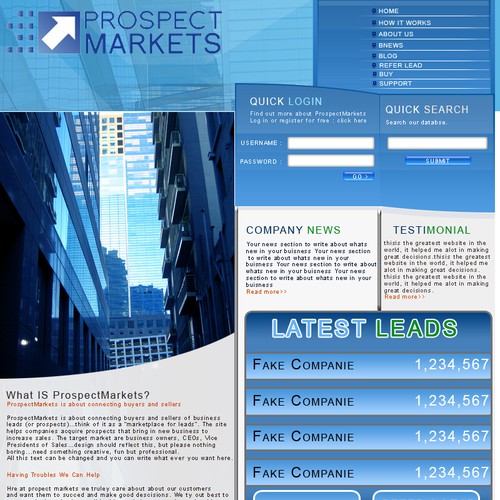 世界中の経験豊富なデザイナーから多くのコンセプトを入手できます。
才能あるプロの ウェブ デザイナーと協力して、アイデアを実現させましょう。
お気に入りの ウェブ を1つ選択しましょう(2つもしくは3つも可能)。デザインは全てあなたのものになります。
chandrab さんはデザイナーと協力してアイデアを磨き上げました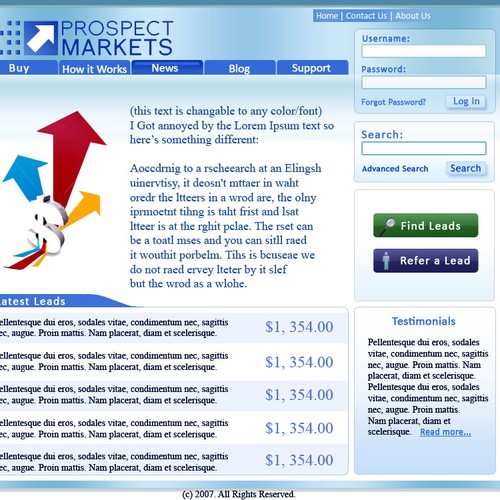 デザインを評価
デザインのエントリーがあったら、評価を行いましょう。デザイナーはクライアントがロゴデザインに何を求めているか知ることができます。
感想を伝える
99designsの優れたコラボレーションツールを利用して、ピンポイントに希望を伝えることができます
デザイン入手までの過程で、多くの才能あるデザイナーと出会うことができます
コンペで楽しくデザインを入手しましょう
最近終了したコンペ: