calicoder さんはデザインコンペを開催して新しい ウェブ を入手しました。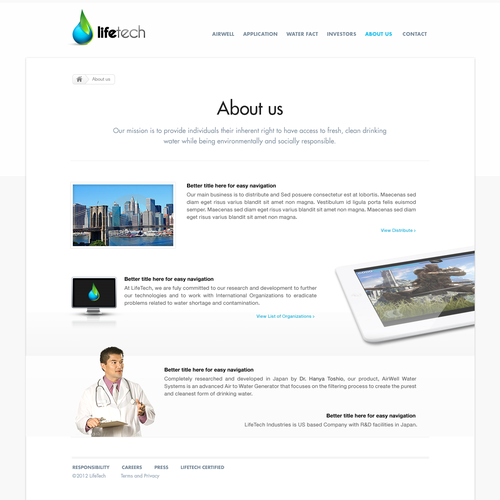 by Creative Zeune
New website design for LifeTech: We turn air into drinking water.
calicoderさんの ウェブ コンペをチェックしましょう
LifeTech offers consumers innovative, progressive and reliable lifestyle related technologies. Our primary product is a sleek, modern, brushed aluminum (like apple) appliance that generates high quality, clean water from atmospheric air. The drinking water produced by our patented technology is cleaner and tastes better than bottled water, and is cheaper and better for the environment. Think apple type design with attentiveness to every detail and an emphasis on green technology that enhances your lifestyle.
http://www.apple.com/ipad/features/ and http://www.apple.com/iphone/features/ - we like the hierarchical typography with titles in black/dark gray and subtitles in light gray. Also, we like the harmonious mixing in of thumbnails and balance with larger product images. Lastly, we like the gradients/shadowing of the site that makes it feel like it has depth and detail. http://nest.com - we like the strong yet clean imagery of the headers. If we could take the strengths from apple and apply it here, we are close to a winner. http://www.nest.com/about/ - we like our "other" pages to be laid out with this design aesthetic. http://www.dyson.com/handdryers/default.asp - all the information is laid out above the fold. You can see all the key features and understand our product almost immediately. The typography is hierarchical and clean (much like apple).
We've attached wireframes for the site on this brief. These wireframes are for general guidance only. They should not be taken literally- we encourage use of your creativity and artistic application. -- Technical Specifications -- - design to 960px wide. This should be in a grid. - include button sample with 3 states: original, hover, and click - include an input and drop down sample -- Five Pages -- 1. Landing Page - the initial landing page. We are going for a clean look and feel similar to apple.com landing page. Look how simple it is. It shows the only product they care about right now. We would like to show the product or a clean water droplet. Please do not design under these constraints. We are looking for something concise, clean, and to the point. 2. Product Page - this is the page where the user can learn about our primary product, AirWell. We are inspired by http://www.dyson.com/handdryers/default.asp. We have a 3d modeler and designer in house, so don't worry about the imagery. 3. Applications - this page shows all the great uses and applications for our product. It can be used in all types of situations and industries. AirWell is a unit about the size of water cooler. It is quiet and energy efficient and generates water even in arid climates. We would like to deploy our units to humanitarian organizations and provide clean drinking water where electricity is available, but means to obtain clean water are not. 4. Water Facts - water we drink is contaminated. research shows that even bottled water has unnatural levels of mercury and pharmaceutical products that are linked to cancers, birth defects, and autism. 5. Other Template Pages - This is a general layout for investors, contact, terms and privacy, responsibilities, careers, and press. We want to see different type of UI elements including buttons, input boxes, and 960 grid layout.
すべてのデザインカテゴリーで予算に沿って 柔軟に価格を設定 できます。 ウェブ は ¥64,499 〜
すぐに使用可能なデジタル用、印刷用ファイルと著作権。
全てはデザインブリーフから
簡単でインタラクティブなガイドに従って、希望のスタイルを伝えましょう。デザイナーはウェブに必要なものは何かを正確に把握することができます。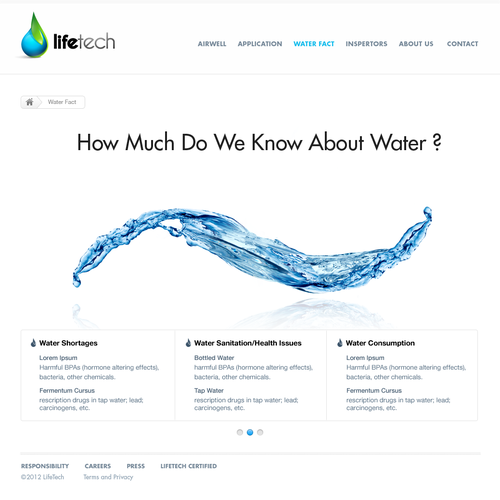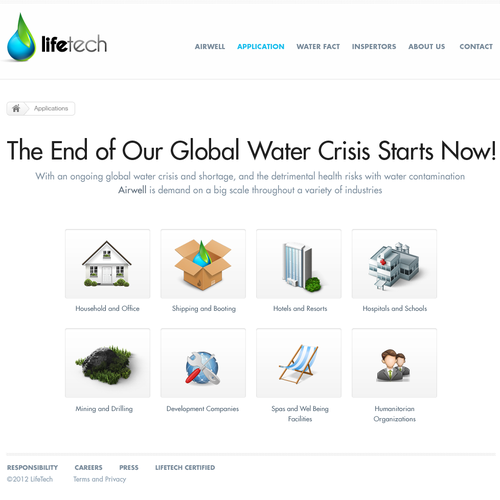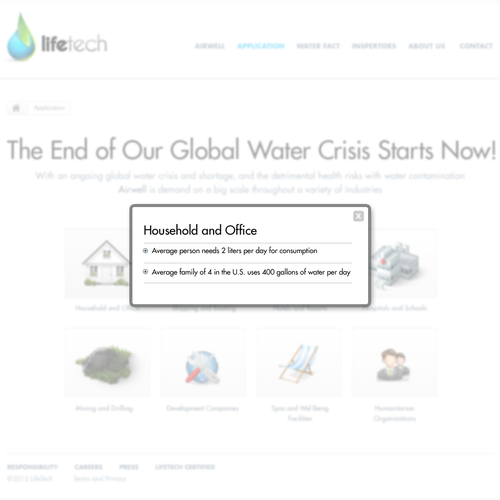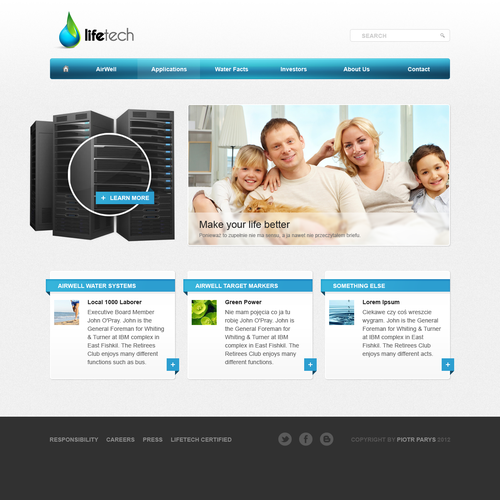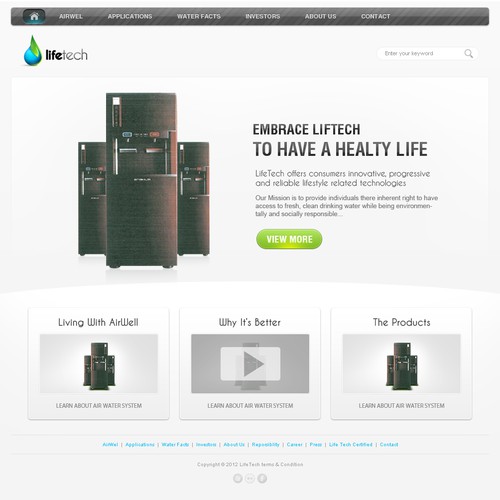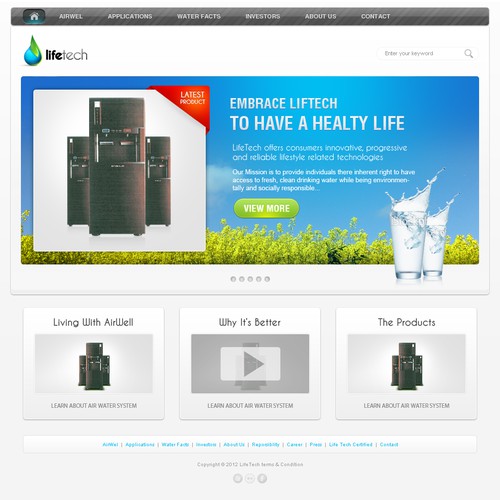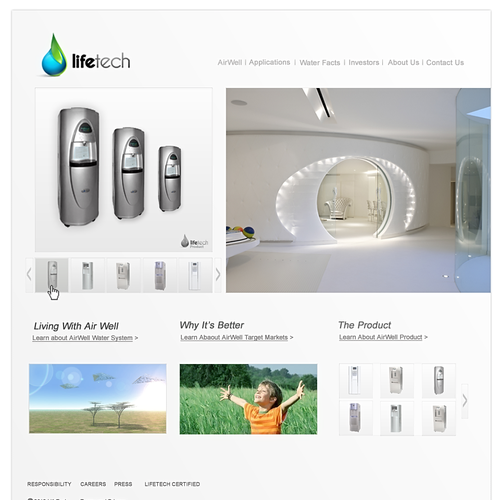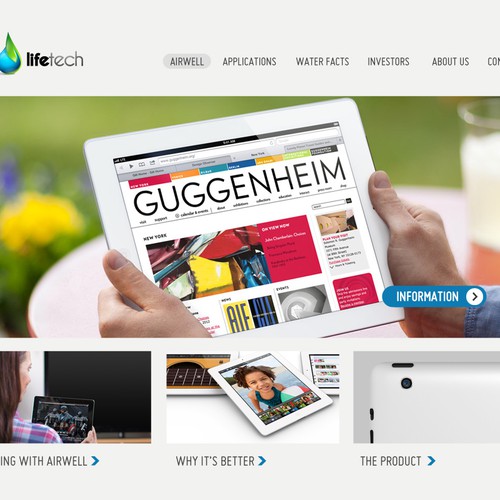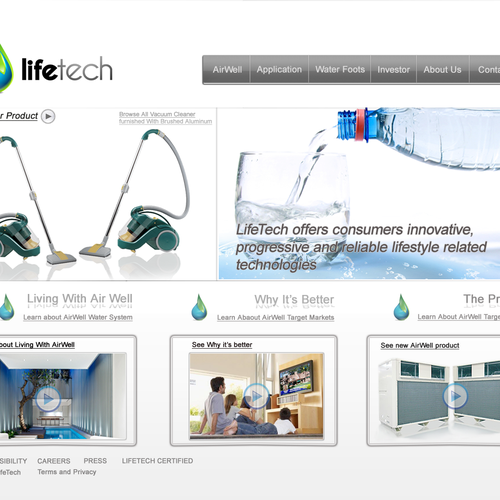 世界中の経験豊富なデザイナーから多くのコンセプトを入手できます。
才能あるプロの ウェブ デザイナーと協力して、アイデアを実現させましょう。
お気に入りの ウェブ を1つ選択しましょう(2つもしくは3つも可能)。デザインは全てあなたのものになります。
calicoder さんはデザイナーと協力してアイデアを磨き上げました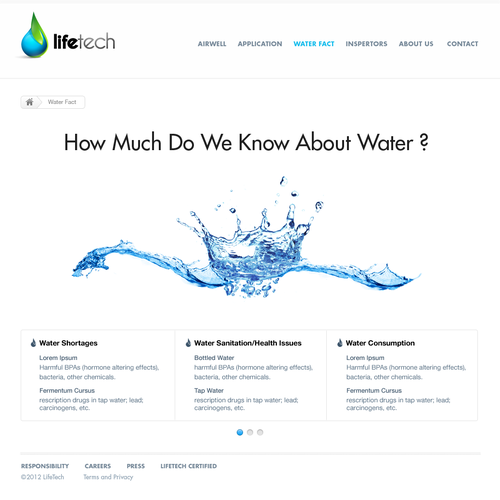 デザインを評価
デザインのエントリーがあったら、評価を行いましょう。デザイナーはクライアントがロゴデザインに何を求めているか知ることができます。
感想を伝える
99designsの優れたコラボレーションツールを利用して、ピンポイントに希望を伝えることができます
デザイン入手までの過程で、多くの才能あるデザイナーと出会うことができます
コンペで楽しくデザインを入手しましょう
最近終了したコンペ:
他の工業・製造業デザインのインスピレーションをチェック