Tim M. さんはデザインコンペを開催して新しい ウェブ を入手しました。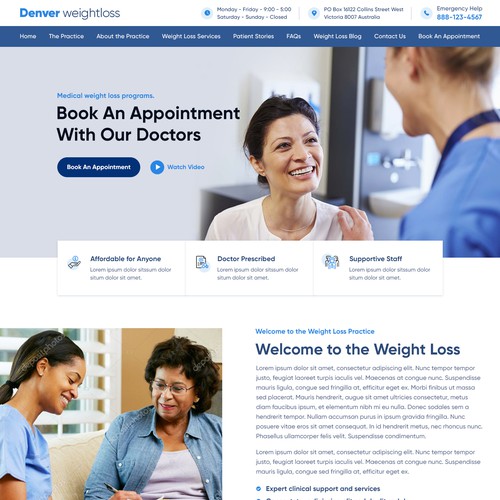 by DesignExcellence
We a need new WOW home page for our weight loss clinic
Tim M.さんの ウェブ コンペをチェックしましょう
Weight loss clinic for people interested in medical weight loss programs.
I want to use this theme https://apexclinic.radiantthemes.com/clinic-two/home-version-two/
Here the notes to get started on this project: Website Design for Weight Loss Clinic We need a designer to create the home page for a new weight loss clinic. We need designer to make this theme conceptually work for the new clinic. This means modifying the current design to conceptually fit the new clinic and to add, utilize, create elements to make the content visually interesting. So this project is conceptual design and part production. This is the theme and the home page that I like: https://apexclinic.radiantthemes.com/clinic-two/ I like the design of the slide with the text "book an appointment with our doctors" and the three boxes under it. This page has some interesting use of elements as well: https://apexclinic.radiantthemes.com/clinic-two/home-version-two/ This is a website for a weight loss clinic that is not run by a doctor: https://doctorsmedicalweightlossclinic.com/ We cannot use any of those images, or design on this site. Concepts, yes. There are no images of people on scales, or people with skinny bodies in huge pants. We want to resist the weight loss cliches, and present your every day person. The program IS doctor prescribed and FDA approved. It was created by a doctor. In the sections where we are talking about the program, which was created by a doctor, it would be correct to use a white coat doctor as a authority figure. The clinic is supervised by a doctor, not owner or run by a doctor. So, the use of a doctor image needs to be minimal. The goal of the website is for people to call. Email and submitting forms is fine but we want live calls. HOME PAGE CONTENT: This is the home page content that we need to show: This is not in any order. The sections are numbered only for this document. Section 01: Welcome to the Weight Loss Practice [200 words] the philosophy of the practice, affordable weight loss, healthy, effective, improve the lives of patients by reducing their weight. easy attainable results, no surgery or expensive procedures Section 02: The Weight Loss Physician [200 words] the idea that this program was conceived and personally used by THE doctor, prescribed as safe and effective Section 03: The Weight Loss Program [200 words] easy, once a week visit for the medication, no meal plans, or exercise regimens, details from the FAQ and Seven Secrets about what the program is Section 04: Our Friendly Staff [200 words] committed to helping patients reach their goals, we understand weight loss loss personally and professionally, I like the idea that the doctor followed the program for himself, easy to make appointments, supportive, caring staff Section 05: Schedule a Weight Loss Consultation [200 words] Section 06: home page video welcome to the practice Section 07: customer testimonials carousel. Two kind of testimonials. Customer is sharing longer story or just stating how much weight they lost. Section 8: Four Footer widgets. Logo and company address with socials. Description. Contact and hours. Widget 1 The Practice About the Practice Weight Loss Services Patient Stories FAQs Weight Loss Blog Widget 2 About the Clinic Weight Loss Dayton is a weight loss clinic in Dayton Ohio specializing in medical weight loss and weight loss programs. The clinic provides a simple and safe doctor supervised medical weight loss plan that will help you lose those unwanted pounds for life. More + Widget 3 Business Hours: By Appointment Only Monday 9:00 am - 5:00 pm Tuesday 9:00 am - 5:00 pm Wednesday 9:00 am - 5:00 pm Thursday 9:00 am - 5:00 pm Friday 9:00 am - 5:00 pm Saturday - - - Sunday - - - Find Us Online Widget 4: Find Us Online: Facebook Instagram Twitter LinkedIn Youtube Pinterest Section 9: Bottom of the page Company Name Street address City Sate Zip Phone - Sitemeap - Terms and Conditions - Privacy Policy Section 10: Map Company Name 200 characters about the business Google Map Embed Section 11: Three recent blog posts Section 12 Call to action banner See call to action samples Section 13 Top menu bar does not change. Use a generic logo that works with the design. The logo type instead of Apexclinic should read Denver weightloss Section 14 Why choose our medical weight loss clinic? Section 15 Top three reasons to choose our clinic (under the header?) Affordable for Anyone (+ icon) Doctor Prescribed (+ icon) Supportive Staff (+ icon) Section 16 Our Services weight loss medical weight loss weight loss clinic weight loss medications weight loss consultations weight loss programs
We need a designer that can take the theme we have chosen and work with the content we are providing to make the home page interesting. The ideal designer will be someone who can read the description provided, look at the home page we like and combine these together to give us a great home page. We are just starting this site and will need more help. What we need is a designer who can conceptualize a good design for this specific business with all of the information that we need. This will be combining elements that are in the theme already and creating new elements that will pull this all together.
すべてのデザインカテゴリーで予算に沿って 柔軟に価格を設定 できます。 ウェブ は $599 〜
すぐに使用可能なデジタル用、印刷用ファイルと著作権。
全てはデザインブリーフから
簡単でインタラクティブなガイドに従って、希望のスタイルを伝えましょう。デザイナーはウェブに必要なものは何かを正確に把握することができます。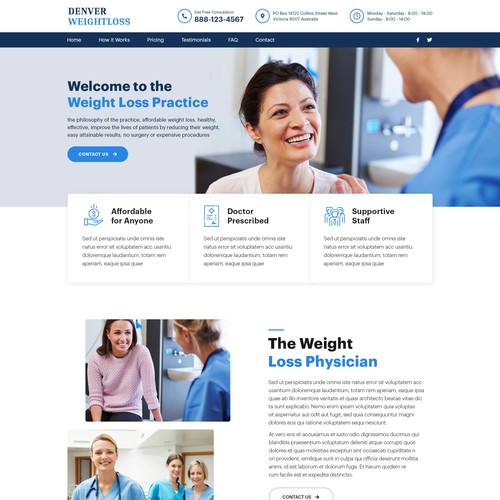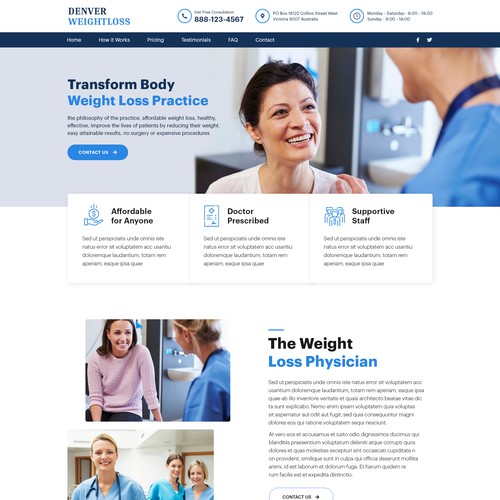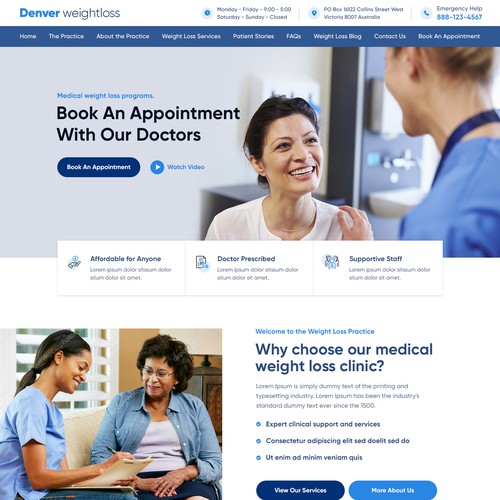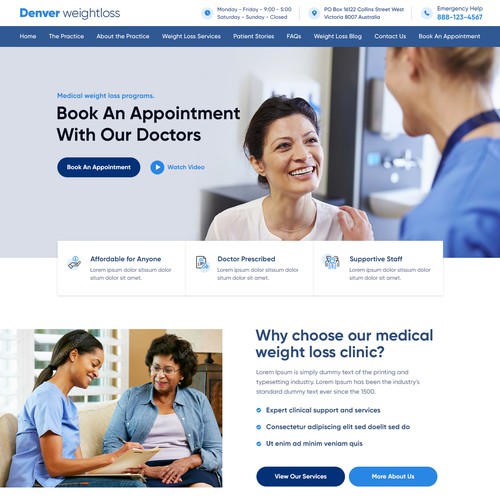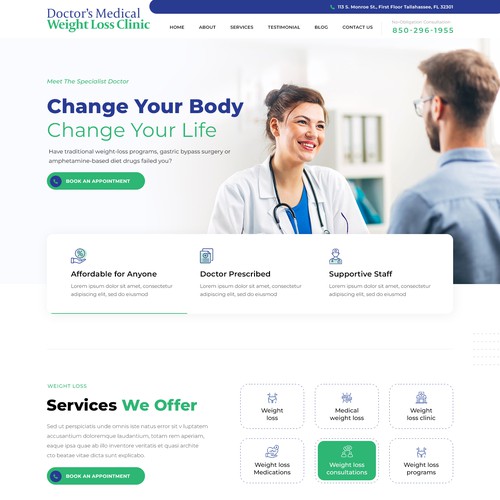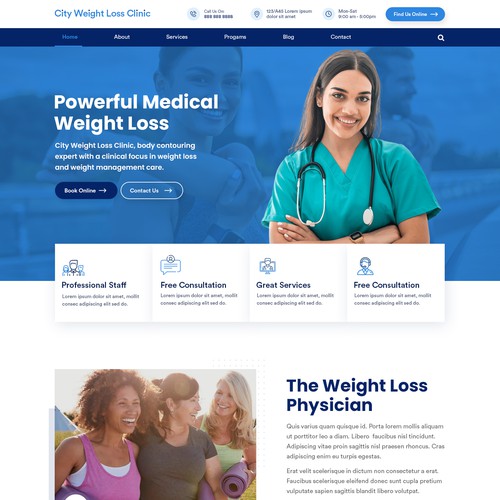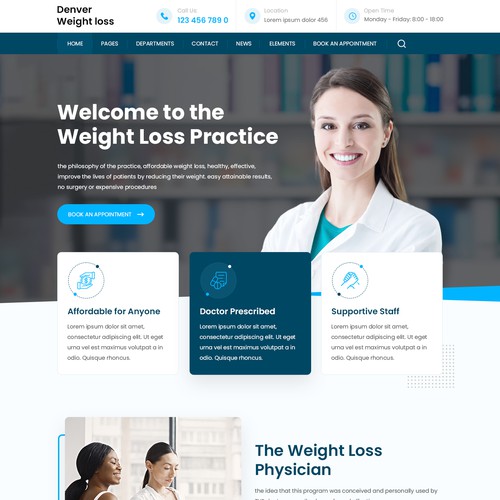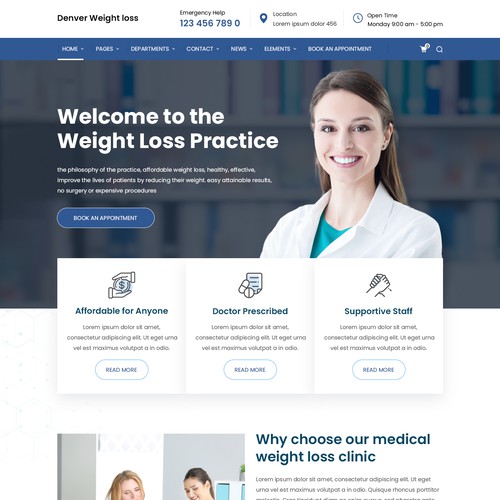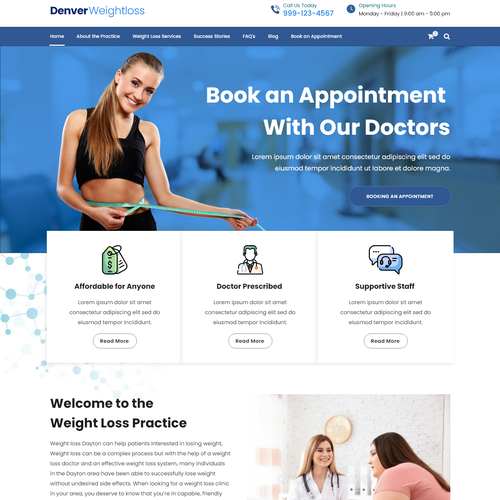 世界中の経験豊富なデザイナーから多くのコンセプトを入手できます。
才能あるプロの ウェブ デザイナーと協力して、アイデアを実現させましょう。
お気に入りの ウェブ を1つ選択しましょう(2つもしくは3つも可能)。デザインは全てあなたのものになります。
Tim M. さんはデザイナーと協力してアイデアを磨き上げました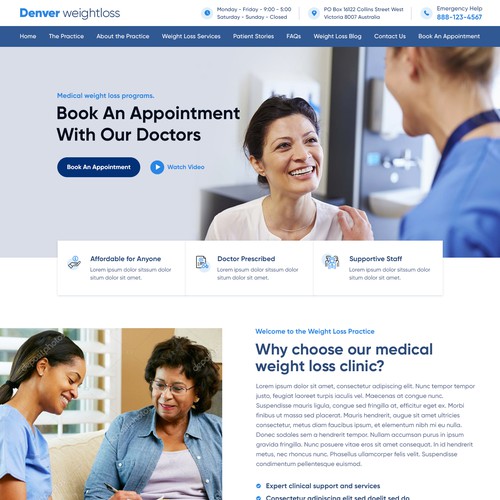 デザインを評価
デザインのエントリーがあったら、評価を行いましょう。デザイナーはクライアントがロゴデザインに何を求めているか知ることができます。
感想を伝える
99designsの優れたコラボレーションツールを利用して、ピンポイントに希望を伝えることができます
クライアント評価
We are very happy with the design of this website and so is our client. We will now request to work 1 on 1 with this designer for more projects!
匿名
デザイン入手までの過程で、多くの才能あるデザイナーと出会うことができます
コンペで楽しくデザインを入手しましょう
最近終了したコンペ:
他の医療・医薬品デザインのインスピレーションをチェック